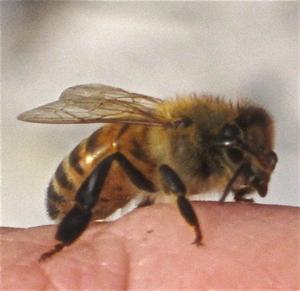 oofiri
Joined Sunday, July 4, 2004
Recent Book Activity
| Statistics | 4 weeks | all time |
| --- | --- | --- |
| books registered | 0 | 1,457 |
| released in the wild | 0 | 1,432 |
| controlled releases | 0 | 187 |
| releases caught | 1 | 554 |
| controlled releases caught | 0 | 177 |
| books found | 0 | 527 |
| tell-a-friend referrals | 0 | 74 |
| new member referrals | 0 | 14 |
| forum posts | 0 | 1,144 |
Extended Profile
"Open the book. (The gilt rubs off the edges of the pages and pollinates the fingertips.)"
- Elizabeth Bishop
There are two ways of bookcrossing that I'm mainly interested in:
1) buying books that I have really loved when I come across them cheap, and releasing them into the wild
2) adding to the Invisible Library (more about it below, see also
www.bookcrossing.com/---/referral
)
Of course, I also release books just to get rid of them, and often my friends give me theirs for bookcrossing purposes, so my shelf is rather a mixed bag. Feel free to ask for any book that is marked available, or to be read. I might not necessarily mail it, though. My wishlist is updated regularly, as I use it to remind myself of any interesting books I see. If I wish for a book into my PC, it generally means I have already read it, loved it and would like to keep it.
For those interested in BookCrossing statistics, my catch rate is mostly due to hosting an OBCZ with a separate bookshelf, and not a sign of special skill or good fortune in wild releasing.
I don't rate BC books. Just don't like to.
Since September 2009 I have hosted a tiny BookCrossing Zone in my neighbourhood:
www.bookcrossing.com/---/referral
Pilkku is located in an old mailbox on the fence at Limingantie 103, 00560 HELSINKI, Finland.
You are very welcome to drop by!
*********
About the Invisible Library ("Näkymätön kirjasto" in Finnish):
The Invisible Library started in 2004, in Helsinki, Finland, as a book swapping meet with a Lesbian/Bisexual theme. At first the books were "registered" by writing their title and author in a little notebook, in chronological order. The readers were asked to share their thoughts by writing on the blank pages or endpapers of each book, and, if possible, to bring the book or another one to the next Invisible Library meeting - of which there were only one or two in a year, so the books didn't travel very fast or far. Originally there were no means or intention to follow the books, either.
I went to the first few meets and liked it. I especially loved the idea of a gradually accumulating body of data concerning what people here/now consider Lesbian or Bi literature. But as long as this data existed only in the little black notebook, it wasn't really accessible. Around the same time I had got into BookCrossing, and the next step was rather self-evident.
I met the Invisible Librarian's (who is a mythical figure :-)) "helpers", Johanna and Rita, who had started the meets, to see if we could merge the two. The result was the Invisible Library virtual bookshelf. I became a "helper" myself, and happily and greedily collect "invisible" books wherever I can find them, to be released. Mostly these books change hands in the meetings or are released in lesbian or queercultural places or happenings.
If you want to get your book on the Invisible Library shelf, you can send me a PM with its BCID and a short note on why you think this book belongs there.