Become a BookCrossing Zone
Promote the fact that your establishment is BookCrossing-friendly and become an Official BookCrossing Zone! Why is that a Good Thing? Besides the obvious goodwill you'll be generating, BookCrossers who use the Go Hunting feature of our website will come to your place of business just to look for released books, so you should see an increase in traffic. Also, be sure to Join BookCrossing under the name of your establishment.
Hot Crossing Zone Tip! To generate even more traffic to your Crossing Zone, Register and Release books at your Zone on a regular basis! And if your patrons leave books that are not yet registered, make sure you have some pre-numbered labels handy so you can 1) make sure they get tracked, and 2) make sure your Crossing Zone account shows up as the original registrant of the book forever!
The file below is a PDF (portable document format), so you'll need the free Adobe Acrobat Reader software to view and print it. You can edit them with Adobe Illustrator if so desired.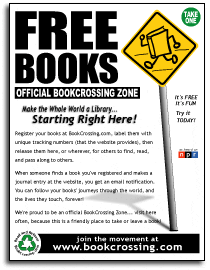 Crossing Zone Display
621 Kb PDF, 8.5x11 in
This sign/flyer is perfect for table-top display in an acrylic stand, or just thumb-tacked to a bulletin board or hung on a wall.