Marygrace Antkowski
visit this artists online gallery.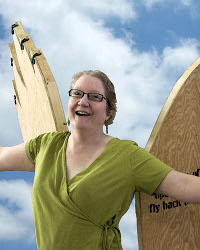 Marygrace Antkowski has had a full range of experiences in art and design. She has worked as an interior designer, illustrated children's books, photographed newborns, studied botanical drawing and painting, designed and executed public art projects, and designed and managed projects for publications. In addition she has done portrait and architectural renderings and received certification in Web design.
Marygrace has been married to her best friend, Michael, for 30 years and they are the proud parents of Mauren, Juls and Gabe; three very caring and talented young people. The Antkowskis live in Pittsburgh, Pennsylvania, where Marygrace works for Carnegie Mellon University.
Regarding Wintertime Reading, the watercolor depicted in BookCrossing's 31st Limited Edition Bookplate she said, "My children are grown now. I have fond memories of reading stories to them; my husband and I always finished each day with our kids by reading to them before they went to sleep. Another best memory of our children's young years was the pre-school they attended, which was near our home. It was nice to be able to walk there, holding their hands and then know that they were going to have a productive and fun day in a warm nurturing atmosphere."
"The painting is of a little boy sitting on the floor reading a book with a cat sitting on his legs. There is a window seat with a snowy scene behind him with a bookshelf under the window seat. Our preschool had such a window and also had many shelves filled with books and toys. It was a place where many children have sat on the floor and looked at picture books and have been read to by their teachers. Also, we have had wonderful cats, who like to keep company with us and often like to sit right on top of us."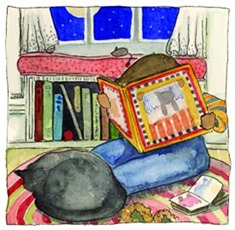 Wintertime Reading
Watercolor - 13" x 13" framed & matted