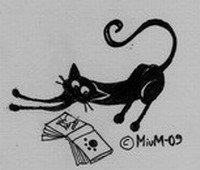 MiuM
Joined Monday, July 24, 2006
Recent Book Activity
| Statistics | 4 weeks | all time |
| --- | --- | --- |
| books registered | 0 | 315 |
| released in the wild | 1 | 598 |
| controlled releases | 0 | 513 |
| releases caught | 0 | 209 |
| controlled releases caught | 0 | 478 |
| books found | 0 | 750 |
| tell-a-friend referrals | 0 | 33 |
| new member referrals | 0 | 7 |
| forum posts | 1 | 1,992 |
Extended Profile
The greatest rays of sunshine in my life are my little daughter and my senior cat (and my husband too).
THINGS WE LOVE
*SEASONAL THINGS
*COZY & HYGGE things
*SEA related stuff
*CATS : everything cat-related
*SOCKS: Me and my cat both love cute socks (size 39). I love to wear them and she loves to throw them around the room (and destroy them..)
* CULTURES: things related to your home town /country /culture
* HISTORY related things
* PERSONAL POST IT NOTE PADS
*MAGAZINES in English or Spanish, also German or Swedish is fine (women's magazines, fashion, science, history, cooking, gardening, interior design, pets, etc.)
-------------------------------------------------------------------------
Puhun suomea. I speak English. Ich spreche Deutsch. Jag talar svenska. Hablo un poco español. Parlo un po' di italiano.
Usually I read books in Finnish and English, but I wish to extend my skills to other languages I have learned, so sometimes I read easy books, comics, etc. in German, Swedish and Spanish.
-----------------------------------------------------------------------------------------
OSALLISTUMANI HAASTEET 2022
Patsasvapautukset 2022
www.bookcrossing.com/---/9940974
BC Helmet lukuhaaste 1.1. - 31.12.2022
www.bookcrossing.com/---/578960