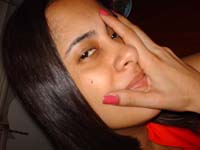 Stellarv
Age 47
Joined Wednesday, April 21, 2004
Recent Book Activity
| Statistics | 4 weeks | all time |
| --- | --- | --- |
| books registered | 0 | 99 |
| released in the wild | 0 | 51 |
| controlled releases | 0 | 8 |
| releases caught | 0 | 26 |
| controlled releases caught | 0 | 5 |
| books found | 0 | 19 |
| tell-a-friend referrals | 0 | 52 |
| new member referrals | 0 | 2 |
| forum posts | 0 | 438 |
Extended Profile
Bem Vindo(a) à minha Bookshelf!
Chegou agora e ainda está perdido? Ótimas dicas em português
www.bookcrossing.com/---/Spiegel"
target="_blank">aqui.
What kind of bookcrosser are you

Your Result: Playfull RBACKer

Sent it as a gift, that's what you say. You are a daily visitor of the rback site. Releasing might be fun, but now I know for sure my book finds someone who actually wants it.
Just admit it, you just love to giftwrap.

ring in bundles
Obsessive releaser
Thematic dropper
Talk of the toy
Love to meet
lucky lurker
strange looking bystander
What kind of bookcrosser are you
Quiz Created on GoToQuiz
Meu mais novo bookring já está circulando:
www.bookcrossing.com/---/5539406"
target="_blank">O Amor Nos Tempos Do Cólera, Gabriel García Márquez
Uma seqüência de acontecimentos me mantiveram afastada do BookCrossing por três meses: Julho de greve de correios e preparativos para uma viagem longa que surgiu em cima da hora, Agosto de viagem e Setembro como primeiro mês na nova rotina trabalho + estudo.
Outubro me traz de volta ao BC com um débito de aproximadamente 20 livros a ser enviados entre trocas, RABCKs e rings/rays. Todos serão enviados, devagar e sempre. Os novos rings nos quais eu estou inscritas e que ainda não me foram enviados, no entanto, não poderei receber. Portanto, se você encontrar meu nome numa lista de bookring ou bookray, pode passar ao seguinte! ;-)
E aproveitando que você está por aqui, que tal dar uma olhadinha na minha
www.submarino.com.br/---/lista.aspx?...
target="_blank">wishlist? Quem sabe você não tem um desses livros pra me emprestar...
Mais wishlist em:



Lidos recentemente:




www.goodreads.com/---/widget2.swf" quality="high" wmode="transparent" FlashVars="id=582566&shelf=read&title=Stella's bookshelf: read&sort=date_added&order=d&params=amazon,,dest_site,">





www.goodreads.com/---/582566"

target="_blank">
www.goodreads.com/---/widget_logo.gif" title="my goodreads profile" width="190" />