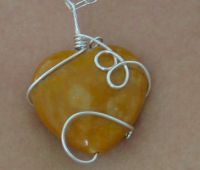 Kislany
Age 54
Joined Monday, December 15, 2003
Recent Book Activity
| Statistics | 4 weeks | all time |
| --- | --- | --- |
| books registered | 0 | 3,230 |
| released in the wild | 0 | 1,986 |
| controlled releases | 0 | 0 |
| releases caught | 0 | 1,216 |
| controlled releases caught | 0 | 0 |
| books found | 0 | 714 |
| tell-a-friend referrals | 0 | 76 |
| new member referrals | 0 | 9 |
| forum posts | 0 | 853 |
Extended Profile
Welcome to
---

I haven't been much here recently, so my book status is not the most actual one. You can find my books for trading at bookmooch.com.
I am happy to trade there at any time. All my available books are uploaded there. Just click on the link above to see what is up for trade.

---

Reading books is my earlierst hobby. Having a good book in my hands
and sipping a glass of red wine is one of the rare moments when I can completely relax and forget about the outside world.

My favourite types of books are paranormal romances, mysteries and thrillers, lately particularly psychological thrillers (have just been introduced to new authors - to me that is, such as Harlan Coben, Nicci French, Keith Ablow, etc.)

I enjoy, however, other hobbies as well, such as making jewelry from beads and silver wire.
My blog
The picture on my profile is a sample of my work.

---

By clicking on this link or by scrolling on the list below you can find
bcwish.cliff1976.net/---/" target="blank">My Books Wish List:






---
Truly wild catches of books I have released:
1. in Berlin/Germany
2. in Nicosia/Cyprus
---
Books I have read in 2007:

January
1. Excavation by James Rollins (very good)
2. Silent Prey by John Sandford (audiobook)(good)
3. All Fall Down by Carlene Thompson (very good)
4. Heat Stroke by Rachel Caine (very good)
5. How to Marry a Millionaire Vampire by Kerrelyn Sparks (very good)
6. Vamps and the City by Kerrelyn Sparks (very good)
7. Smitten by Janet Evanovich (audiobook) (so-so)
8. The Ghost's Companion by Peter Haining (good)
9. A Girl's Guide to Vampires by Katie MacAlister (very good)
February
1. Sex and the Single Vampire by Katie MacAlister (very good)
2. Total Silence by T.J. MacGregor (very good)
3. May the Angels Be with You by Gary Quinn (very good)
4. Haunted Homes by Mia Dolan (very good)
5. Passionate Thirst by Cameron Dean (very good)
6. Luscious Craving by Cameron Dean (very good)
7. Two by Twilight by Maggie Shayne (very good)
8. The Education of Oversoul Seven by Jane Roberts (very good)
9. Black Water by T.J. MacGregor (very good)
10. Vampire Nights by Timothy Moriarty (very good)
March
1. Tall, Dark and Dead by Tate Hallaway (very good)
2. Hunter's Moon by C. T. Adams (good)
3. Grave Sight by Charlaine Harris (very good)
4. Interlude in Death by J.D.Robb (very good)
5. The Trouble with Witches by Shirley Damsgaard (very good)
6. Sex, Lies, and Vampires by Katie MacAlister (very good)
7. Storm Front by Jim Butcher (very good)
8. Fool Moon by Jim Butcher (very good)
9. Playing with Fire by Gena Showalter (very good)
10. The Interpretation of Murder by Jed Rubenfeld (excellent)
April
1. The Grief Shop by Vicki Stiefel (very good)
2. Alone in the Dark by Elaine Coffman (very good)
3. Circus of the Darned by Katie Maxwell (good)
4. The Ghost Whisperer by Katie Coutts (good)
5. The Codex by Douglas Preston (very good)
6. When Darkness Comes by Alexandra Ivy (very good)
7. Winter of the Wolf Moon by Alex McKnight (very good)
8. Don of the Dead by Casey Michaels (very good)
9. Last Whisper by Carlene Thompson (very good)
10. The Scent of Shadows by Vicki Pettersson (excellent)
May
1. Retrieval by Jeanie London (good)
2. Isolation Ward by Joshua Spanogle (excellent)
3. Hunting Wind by Steve Hamilton (very good)
4. The Rest Falls Away by Colleen Gleason (very good)
5. Grave Surprise by Charlaine Harris (very good)
6. Haunted by Lisa Childs (very good)
7. Fangs for the Memories by Kathy Love (very good)
8. Fangs but no Fangs by Kathy Love (very good)
9. Blue Moon by Lori Handeland (very good)
10. Undead and Unreturnable by MaryJanice Davison (very good)
11. Club Dead by Charlaine Harris (very good)
12. Dead to the World by Charlaine Harris (very good)
June
1. Greywalker by Kat Richardson (very good)
2. Better Read than Dead by Victoria Laurie (very good)
3. Killer Insight by Victoria Laurie (very good)
4. 18 Seconds by George D. Shuman (very good)
5. David Well's Complete Guide to Developing Your Psychic Skills by David Wells (very good)
6. Song of the Bones by M.K. Preston (very good)
7. Burned by Carol Higgins Clark (good)
8. Dead Sexy by Tate Hallaway (very good)
9. Persecuted by Lisa Childs (very good)
10. Spy Dance by Allan Topol (excellent)
11. Slow Dance by Lauren Bach (good)
July
1. Enemy Mind by Maggie Shayne (good)
2. Shadow Lover by Anne Stuart (good)
3. Ghost of a Chance by Yasmine Galenorn (very good)
4. No Regrets by Shannon K. Butcher (very good)
5. Ceremony in Death By J.D. Robb (very good)
6. Doppelganger by Marie Brennan (very good)
7. Full Pursuit by Jasmine Cresswell (very good)
8. Aunt Dimity:Snowbound by Nancy Atherton (very good)
9. Dark Moon by Lori Handeland (very good)
10. Beyond Control by Rebecca York (very good)
11. Cold Granite by Stuart MacBride (excellent)
12. Category Five by T.J. MacGregor (very good)
13. Cold as Death by T.J. MacGregor (very good)
August
1. Mount Dragon by Douglas Preston & Lincoln Child (very good)
2. Harry Potter and the Deadly Hallows (excellent)
3. Brimstone by Douglas Preston & Lincoln Child (very good)
4. Dance of Death by Douglas Preston & Lincoln Child (excellent)
5. The Book of the Dead by Douglas Preston & Lincoln Child (very good)
6. In the Dark of the Night by John Saul (very good)
7. Damned by Lisa Childs (very good)
8. The Time Traveler's Wife by Audrey Niffenegger (very good)
9. Sword of God by Chris Kuzneski (very good)
September
1. After Caroline by Kay Hooper (very good)
2. Indigo Slam by Robert Crais (very good)
3. Killing Spree by Kevin O'Brien (very good)
4. And Only to Deceive by Tasha Alexander (very good)
5. Midnight Moon by Lori Handeland (very good)
6. Rising Moon by Lori Handeland (very good)
7. The Survivors by Dinah Mccall (very good)
8. Jury of One by Laura Bradford (very good)
9. Forecast of Evil by Laura Bradford (very good)
October
1. Bled Dry by Erin McCarthy (very good)
bar.hit-counter.udub.com/---/" target="_top">
bar.hit-counter.udub.com/---/index.php?... ALIGN="middle" HSPACE="4" VSPACE="2">