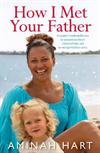 How I Met Your Father
1 journaler for this copy...
My path crossed Aminah's some years ago now. I run a website for people affected by the neuromuscular conditions known as centronuclear and myotubular myopathy. A family of conditions on a scale from mild to very severe, that affect people in many different ways, with a multitude of similarities and a multitude of differences. The conditions are rare, complex to understand, unpredictable and there is no cure. So when Aminah published her book, I was always going to read it, even though I knew bits of Aminah's story and how it turned out already.

Much of the media coverage of the book has focused on the modern day back to front fairytale, which led to Aminah meeting her husband Scott and it does talk of this and of Leila, their beautiful daughter too. However, it is more than that, a memoir of the first 40 or so years of Aminah's life, beginning with tales of Aminah's grandparents and her parents , before moving onto Aminah's own story in both London and Australia.

Aminah has written a very real and honest book about the highs and lows in her life and the short lives of her sons Marlon and Louis who had myotubuar myopathy – it is a book about fear and loss and heartbreak but also about fighting back. Different people will take different things from this book, they may relate to Aminah's experience of everyday racism, or the need for an identity, or having a child with a undiagnosed medical condition or the loss of a child.

For me, it was all of the above but in particular Aminah has done a wonderful thing by writing this book in memory of her sons two little boys, who, while their lives may have been short have left an amazing legacy.

Thank you for writing this Aminah. Proud to know you, even if only from afar.

---