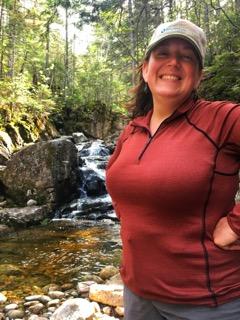 therubycanary
Age 44
Joined Friday, August 8, 2003
Recent Book Activity
| Statistics | 4 weeks | all time |
| --- | --- | --- |
| books registered | 1 | 1,098 |
| released in the wild | 1 | 289 |
| controlled releases | 0 | 12 |
| releases caught | 0 | 29 |
| controlled releases caught | 0 | 2 |
| books found | 0 | 194 |
| tell-a-friend referrals | 0 | 45 |
| new member referrals | 0 | 12 |
| forum posts | 0 | 555 |
Extended Profile
Hello all,
If I can't be travelling, I'm probably reading about travelling. I've spent a lot of time on the road for my former job as an archealogical technician, and I've also worked/volunteered as an English teacher in Thailand, Nepal, Mongolia, Korea, and Mexico. I've moved back to my home state of Maine, and have been fortunate to travel a bit since I've been home in China and Europe.
My travel blog, along with a once a month update of the books I read, is kept at www.therubycanary.wordpress.com.
Originally I'm from Portland, ME. I'm a songwriter and singer and released a new record made with my old friends from Maine. http://wanderlostmusic.squarespace.com.
visited 16 states (7.11%)
Try
Neptyne, the programmable spreadsheet
Passport to the World Reading Challenge. No time limit. I'm going to try to stick to literary translations and political writings as opposed to travel narratives. Although I've read lots of different things from around the world, I'm only going to include books I've read from this posting forward.
1. Afghanistan - Thousand Splendid Suns by Khaled Hosseini, kabul Beauty School and Little Coffeshop in Kabul by Deborah Rodriquez, The Wasted Vigil y Nadeem Aslam
2. Albania
3. Algeria
4. American Samoa
5. Andorra
6. Angola
7. Antigua and Barbuda
8. Argentina - Chasing Che by Patrick Symmes
9. Armenia
10. Aruba
11. Australia - The Last of the Nomads by W.J. Peasley, Tracks
12. Austria - Homestead by Lippi
13. Azerbaijan
14. Bahamas
15. Bahrain
16. Bangladesh - The Death of Visnu by Manil Suri
17. Barbados
18. Belarus
19. Belgium
20. Belize
21. Benin
22. Bermuda
23. Bhutan - Geography of Bliss by Eric Weiner
24. Bolivia
25. Bosnia and Herzegovina - The Cellist of Sarajevo by Steven Galloway
26. Botswana
27. Brazil
28. British Virgin Islands
29. Brunei
30. Bulgaria
31. Burkina Faso
32. Burundi
33. Cambodia - First they Killed my Father by Loung Ung
34. Cameroon
35. Canada - all things Margaret Atwood
36. Cape Verde
37. Cayman Islands
38. Central African Republic
39. Chad
40. Chile - Chasing Che
41. China - The Man Who Loved China by Simon Winchester, Falling Leaves by Adeline Mah, Shanghai Girls, Snow flower and the Secret Fan, and Peony in Love by Lisa See, Empress Dowager Cixi by Jung Chang, The Vagrants, Leaving Mother Lake, The Private Papers of Eastern Jewel by Maureen Lindley, Factory Girls by Leslie Chang, River Town: Two Years on the Yangtze by Peter Hessler, The Noodle Maker by Ma Jian, The Vagrants by Yiyun Li
42. Chinese Taipei (TPE)
China (Tibetan Region) - From Heaven Lake by Vikram Seth, Sorrow Mountain by Ani Pachen, The Heart of the World by Ian Baker, Red Poppies by Alai, My Journey to Lhasi by Alexndra David-Neel, The Skull Mantra Series by Eliot Patterson, My Path Leads to Tibet: The Inspiring Story of How One Young Blind Woman Brought Hope to the Blind Children of Tibet by Sabriye Tenberken
43. Colombia
44. Comoros
45. Congo DR - Untapped: The Search for Africa's Oil
46. Congo Republic - Blood River by Tim Butcher
47. Cook Islands
48. Costa Rica - Green Pheonix by William Allen
49. Côte d'Ivoire
50. Croatia
51. Cuba - Che's Chevrolet, Fidel's Oldsmobile by Richard Schweid, Also Known as Che by Paco Taibo, Waiting for Snow in Havana by Carlos Eire
52. Cyprus
53. Czech Republic
54. Denmark - Geography of Bliss by Eric Weiner
55. Djibouti
56. Domenica
57. Dominican Republic
58. Ecuador
59. Egypt - In an Antique Land by Amitov Gosh, Down the Nile by Rosemary Mahoney, The Butterfly Mosque by G. Willow Wilson
60. El Salvador
61. Equatorial Guinea
62. Eritrea
63. Estonia
64. Ethiopia - There is No Me Without You by Melissa Greene, Say You're one of Them by Uwem Akpan
65. Fiji
66. Finland
67. France - Fire in the Blood by Irene Nemirosvsky, The Nightengale by Kristin Hannah, Sarah's Key by Tatiana de Rosnay, The Elegance of the Hedgehog by Muriel Barbery
68. Gabon
69. The Gambia
70. Georgia
71. Germany
72. Ghana - Jantsen's Gift by Pam Cope, Wife of the Gods by Kwei Quartey
73. Greece
74. Grenada
75. Guam
76. Guatemala
77. Guinea
78. Guinea-Bissau
79. Guyana
80. Haiti - Breath, Eyes, Memory and The Dew Breaker by Edwidge Danticat
81. Honduras
82. Hong Kong
83. Hungary
84. Iceland - Geography of Bliss by Eric Weiner
85. India - Geography of Bliss by Eric Weiner, The Death of Vishnu by Manil Suri, Hullaballoo in the Guava Orchard by Kiran Desai, Sea of Poppies by Amativ Ghosh, Karma Cola by Gita Mehta
86. Indonesia
87. Iran - Even After All this Time by Afschineh Latifi, Things I've Been Silent About by Azar Nafisi, Funny in Farsi by Firoozeh Dumas, Chicken With Plums by Marjane Satrapi
88. Iraq - Alia's Mission: Saving the Books of Iraq by Mark Stamaty
89. Ireland - Pomegranate Soub and Rosewater and Soda Bread by Marsha Mahran, Almost There by Naula O'Faolain
90. Israel
91. Italy - In Other Words by Jhumpa Lahiri
92. Jamaica
93. Japan - The Empty Mirror, The Pearl Diver by Jeff Talagiro, Wind-Up Bird Chronicle by Haruki Murakami, A Tale for the Time Being by Ruth Ozeki
94. Jordan
95. Kazakhstan
96. Kenya - The Shadow of Kiliminjaro by Rick Ridgeway, Dizzy Worms by Michael Holman
97. Kiribati
98. Korea, South - Free Food for Millionaires by Min Lee, When My Name was Keoko and A Single Shard by Linda Sue Park, Tongue
99. Korea, North - This is Paradise! by Hyok Kang, The Aquariums of Pyongyang, Nothing to Envy
100. Kuwait
101. Kyrgyzstan
102. Laos
103. Latvia
104. Lebanon
105. Lesotho
106. Liberia
107. Libya
108. Liechtenstein
109. Lithuania
110. Luxembourg
111. FYRO Macedonia
112. Madagascar
113. Malawi
114. Malaysia - The Gift of Rain by Tan Twan Eng, The Woman Who Breathed Two Worlds by Selina Siak Chin Yoke
115. Maldives
116. Mali
117. Malta
118. Marshall
119. Mauritania
120. Mauritius6
121. Mexico - Born to Run by Chris Mcdougall, Kissing the Virgin's Mouth by Donna Gershten
122. Micronesia - The Island of the Colorblind by Oliver Sacks
123. Moldova - Geography of Bliss by Eric Weiner
124. Monaco
125. Mongolia - Hearing Birds Fly By Laura Waugh, Bones of the Master by George Crane, The Horse Boy by Rupert Isaccson
126. Montenegro
127. Morocco - A House in Fez, Cinammon City by Miranda Innes
128. Mozambique - Under the Frangipani - Mia Couto
129. Myanmar - The Voice of Hope by Aung San Suu Kyi and Alan Clements, Finding George Orwell in Burma by Emma Larkin, From the Land of Green Ghosts by Pascal Khoo Thwe, The Glass Palace
130. Namibia
131. Nauru
132. Nepal - Massacre at the Palace by Jon Gregson; The Guru of Love, Arresting God in Kathmandu and The Royal Ghosts by Samrat Upadhyay, The Violet Shyness in their Eyes, Touching my Father's Soul by Jamling Tenzing Norgay, Sky Train by Canyon Sam
133. Netherlands - Murder in Amsterdam by Ian Buruma, The Red Dancer by Richard Skinner
134. Netherlands Antilles
135. New Zealand
136. Nicaragua
137. Niger
138. Nigeria- Say You're One of Them by Uwmen Akpan, Purple Hibiscus by Chimamanda Adichie
139. Norway
140. Oman
141. Pakistan - The Dancing Girls of Lahore by Louise Brown, Burnt Shadows and Salt and Saffron by Kamila Shamsie, In The Name of Honor by Muhktar Mai,
142. Palau
143. Palestine - This Side of Peace by Hanan Ashwari, City of Oranges by Adam LeBor
144. Panama
145. Papua - Euphoria by Lily King
146. Paraguay
147. Peru - To the Last City by Colin Thubron
148. Philippines - When the Elephants Dance by Tess Holithe
149. Poland
150. Portugal - Under the Frangipani by Mia Couto
151. Puerto Rico
152. Qatar
153. Romania
154. Russia - Child 44 by Tom Rob Smith, Riding the Iron Rooster by Paul Theroux, The Reindeer People by Piers Vitebsky
155. Rwanda - We Wish to Inform You that Tomorow We Will be Killed With Our Families, Left to Tell by Immaculee Ilibagiza, A Sunday at the Pool in Kigali by Gil Courtemanch
156. Saint Kitts and Nevis
157. Saint Lucia
158. Saint Vincent and the Grenadines
159 Samoa
160. San Marino
161. São Tomé and Príncipe
162. Saudi Arabia - In the Land of Invisible Women by Quanta Ahmed
163. Senegal
164. Serbia
165. Seychelles
166. Sierra Leone - Green Oranges on Lion Mountain by Emily Joy
167. Singapore
168. Slovakia
169. Slovenia
170. Solomon
171. Somalia
172. South Africa - Gem Squash Tokeloshe by Rachel Zadok, Disgrace by J.M. Coetzee, Born a Crime by Trevor Noah
173. Spain - The Mapmaker's Opera by Bea Gonzalez, The Shadow of the Wind by Carlos Ruiz Zafon
174. Sri Lanka
175. Sudan - Tears of the Desert by Halima Bashir , God Grew Tired of US by John Bul Dau
176. Suriname
177. Swaziland
178. Sweden
179. Switzerland - Geography of Bliss by Eric Weiner
180. Syria
181. Tajikistan
182. Tanzania
183. Thailand - Geography of Bliss by Eric Weiner, Fieldwork by Mischa Berlinski, The Wind-Up Girl by Paolo Bacigalupi, Bangkok Haunts by John Burdett
184. Timor-Leste
185. Togo - Do They Hear You When You Cry by Fauziya Kassindja
186. Tonga
187. Trinidad and Tobago
188. Tunisia
189. Turkey - Snow, My Name is Red, and Istanbul by Orhan Pamuk, Zabelle by Nancy Kricorian, The Oracle of Stamboul by Michael Lukas
190. Turkmenistan
191. Tuvalu
192. Uganda
193. Ukraine
194. United Arab Emirates
195. United Kingdom - Geography of Bliss by Eric Weiner, Man Who Loved China by Simon Winchester, The Guernsey Literary and Potato Peel Pie Society by Mary Ann Barrows
196. United States - High Tide in Tucson by Barbara Kingsolver, The Future of Fredom; Illiberal Democracy at Home and Abroad by Fareed Zakaria, The Widow of the South by Robert Hicks, The Women T. C. Boyle
197. Uruguay
198. Uzbekistan
199. Vanuatu
200. Venezuela
201. Vietnam - Seeing Vietnam by Susan Brownmiller, Fourth Uncle in the Mountain by Quang Van Nguyen, Catfish and Mandala by Andrew Pham, The Lotus Eaters by Tatjana Soli, A Good Scent from a Strange Mountain by Robert Butler, The Fragipani Hotel by Violet Kupersmith
202. Virgin Islands
203. Yemen
204. Zambia
205. Zimbabwe - Don't Let's Go to the Dogs Tonight by Alexandra Fuller