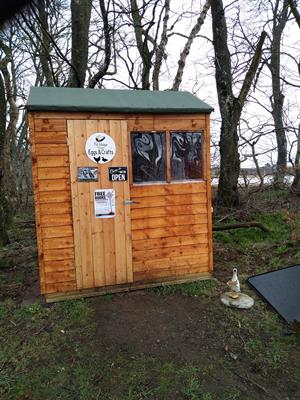 riffraff71
Age 52
Joined Friday, February 15, 2008
Recent Book Activity
| Statistics | 4 weeks | all time |
| --- | --- | --- |
| books registered | 2 | 382 |
| released in the wild | 3 | 394 |
| controlled releases | 4 | 294 |
| releases caught | 2 | 56 |
| controlled releases caught | 4 | 271 |
| books found | 0 | 462 |
| tell-a-friend referrals | 0 | 12 |
| new member referrals | 0 | 0 |
| forum posts | 0 | 511 |
Extended Profile
I'm 50 and have 2 children(23 and 25) both keen readers too.I love animals,at the moment I have 4 cats, 3 dogs, 12 chickens ,26 ducks, 6 sheep and 1 adopted horse.
I love books,I've got loads and I just love sorting though them and rearranging them which sounds a bit sad I guess.I'm up for doing swaps so if there's anything on my shelf you fancy give me a yell and I'll bump it to top of my tbr pile.I also do the odd RABCK so make sure your wishlist is up to date and you're registered on RABCK.com.
I'm currently working on opening a bookcrossing zone in my honesty shed at the end of my track!! Should be up and running by October so I'm also open to any donations of books :) *** UPDATE...it is up and running :)
HGG and Secret Santa:
I appreciate anything really! Obviously wishlist books but I'm always excited to receive any books.
I'm currently getting a bit crafty and I'm into self sufficiency, etc so I'll include my amazon wishlist which is rather long and strange!
www.amazon.co.uk/---/3BCXE3DD1LPY4?...