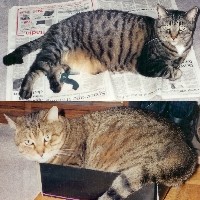 jessibud
Joined Wednesday, March 17, 2004
Recent Book Activity
| Statistics | 4 weeks | all time |
| --- | --- | --- |
| books registered | 2 | 1,255 |
| released in the wild | 0 | 264 |
| controlled releases | 0 | 12 |
| releases caught | 0 | 52 |
| controlled releases caught | 0 | 12 |
| books found | 0 | 198 |
| tell-a-friend referrals | 0 | 60 |
| new member referrals | 0 | 8 |
| forum posts | 2 | 14,033 |
Extended Profile
The pics above are the real *jessibud*: the late, great Jessie, top, on her newspaper, and Buddy, in his box (I never had the heart to tell him he didn't fit).
~~~~~~~~~~~~~~~~~~~~~~~~~~~~~~~~~~~~~~~~~~~
I don't smoke, I don't drink (well, a little Kahlua or Bailey's over ice cream sometimes, but I don't think that counts), and I don't do drugs -- except at migraine time. However, I do have what might be described as an addiction of sorts: I am not physically capable of walking into a bookstore and leaving, empty-handed. Heck, I can't even walk
past
a bookstore without going in!
When I first left home, many many years ago, and went to live on my own (read:on my own money), my mom tried to gently remind me about financial priorities; I believe her exact words were, "You can't eat books, you know" (in other words, don't spend ALL your money on books!). Well, in fact, she was wrong: I
DO
eat books, I swallow them whole....and have lived off their nourishment for weeks and years at a time...
Discovering Bookcrossing has been a delightful bit of serendipity in my life. I love the concept behind it, love to meet and talk to people who share the passion, and I love being part of bookrings, something, quite frankly, I thought
I
had invented!! I've done this very thing with my own friends who live far away, long before I ever knew it had a name and long before I ever found bookcrossing! Who knew??
As for my bookcrossing bookshelf, I have chosen not to register books in my personal collection mainly because I am simply not willing to part with them. But I do think a PC list is a good way to reflect my true interests and so, at some point, I will try to list some of the books that have touched me over the years and which, like my cats, will remain *indoor* books forever. Mind you, this will only be a sampling of what is on my real shelves because I think I have far too many to list. Parting with books is never easy but thanks to bookcrossing, I am learning.....
As for *me*, here's the virtual snapshot (I am too computer-challenged to provide a real one):
Hobbies
- papercrafting, birding, reading, hiking, the internet (!), stained glass/fused glass
Things I like
(in no particular order) - chocolate, baseball, Rocky & Bullwinkle, chocolate, Calvin & Hobbes, animals (especially cats, dogs, birds), gardening, chocolate, folk music (esp. Garnet Rogers, Connie Kaldor), leaves and trees, Scrabble (and other word games)...
Misc
- I teach young kids, and love being the *big kid* in the class. Sure beats working with grown-ups! I have climbed a glacier in Norway, I've lived in 4 countries, my goal in life is to read all the books I own before I die (sad, but true). And I get the hiccups whenever I eat bread.
I am owned by 2 beautiful tortoiseshell cats, adopted from the Humane Society in 2003, after losing my 2 previous cats (pictured above) over a one year period.
My tastes in reading are all over the map. I love both non-fiction (especially memoirs & biographies) and fiction (especially generational and historical novels). Jack Finney's "Time and Again" got me hooked on time travel and although I don't generally like sci-fi, as a genre, well-written time travel is something I love. I also love to read about animals, nature, gardening, travel, good literature and let's not forget humour, I love sharp wit and satire! Gee, it may have been easier to list what I DON'T like to read (horror and crime would top THAT list)!
Due to the rising (and ridiculous!) cost of postage here in Canada, I no longer participate in bookrings or do international mailings.
Books on my bookshelf may not reflect my personal tastes as I have registered many exclusively for release.
~ ~ ~ ~ ~ ~ ~ ~ ~ ~
BOOKRINGS I'VE COMPLETED
*
The Magic Box in My Backyard
(composting colouring book) (started by funsour)
*
3 Little Pigs Buy the White House
(started by mysteryfan03)
*
British Sign Language fingerspelling colouring book
(started by funsour)
*
The Many Faces of the Great Mothers (goddesses Colouring book)
(started by funsour)
*
Bachelor Brothers Bed & Breakfast, and Pillow Book">
(started by MaryZee)
*
Sweet Potato Queens Book of Love
(started by EvaLowrain)
*
The Little Prince
(started bookgal23)
*
1000Marbles
(started by BrooklinBrat)
*
DarwinAwards II
(started by Cyberkedi)
*
Mapleleaf Audiobookbox
(started by Greyflank)

* A Scrap of Time (started by bookczuk)
*The New Yorker Book of Cartoons started by cyberkedi
* Word Freak: Heartbreak, Triumph, Genius, and Obsession in the World of Competitive Scrabble Players (started by Colanne)
* Prodigal Summer (started by Hotflash)
* Little Indulgences (More Than 400 Ways to Be Good to Yourself (started by Antof9)
* The RAoK journal (started by SpedBug)
* Restaurants to Check Out *Journal Bookring*by The Imagineering Company (started by tnkbl)
* Better World Journal (started by symphonicca)
* The Cat on My Shoulder: Writers and Their Cats (started by Shaunesy)
* Angry Housewives Eating Bon-Bons (started by hotflash)
* The Wisdom of Big Bird and the Dark Genius of Oscar the Grouch"(started by luvtink81)
*More On Oxymoron started by cyberkedi
*Without Reservation (started by fizzfred)
*42-Up by Bennett L. Singer, Michael Apted (started by Goatgrrl)
*How to Be a Canadian: Even If You Already are One by Will Ferguson (started by Anderal)
*The Kite Runner (started by KimKerry)
* What BC Means to Me Journal (started by guinaveve)
* The Strength Within: The Granger Chronicles (started by zizzr)
* The Peace Book by Todd Parr (started by Busybeesfamily)
* The Van Gogh Colouring Book (started by KitsuneCharmed)
* The Madonnas of Leningrad (started by momunit)
* The Nine Emotional Lives of Cats (started by tom-m)
* Light on Snow (started by SqueakyChu)
* Only Love Is Real: A Story of Soulmates (started by time-traveler)
* Devil in the White City (started by Bobbarama)
* Women Who Love Books Too Much (started by DoveiLibri)
* These Is My Words (started by Hotflash)
* Ex Libris : Confessions of a Common Reader (started by MissTree)
* We Just Want To Live Here (started by dancing-dog)
* Women of the Ukiyo-e, colouring book (started by Erishkigel)
* Dr. Seuss and Mr. Geisel: A Biography (started by Bobbarama)
* The Little Calico and Tortoiseshell Cat Book (started by caffcaff)
* Between Two Worlds (started by therubycanary)
* The Cat Colouring Book (started by Suefitz)
* Where or When (started by froggirlwendy)
* The Natural Superiority of the Left-Hander-bookring (started by Jaffa)
* The Museum at Purgatory (started by therubycanary)
* The Memory Keeper's Daughter (started by aberpeter)
* Ordinary Life(started by Hotflash)
* The Namesake (started by Thursday5)
* The Labrador Fiasco (started by dutch-flybaby)
* How Reading Changed My Life (started by Cinnamon-Girl)
* Alone in the Kitchen with an Eggplant (started by oi-reader)
* The Yankee Girl: A Korean Girl's Journey to Find Herself (started by Thursday5)
* Llednyl's Literary Quotes Journal (started by Llednyl)
* Where I Come From journal (started by Guinaveve)
* What's Your Poo Telling You? (started by GoryDetails)
* Old Age Comes At A Bad Time (started by kiyoitsukikage)
* Passing (started by Lakelady2282)
* Cat Journal Blank Book (started by Libertine101)
* The Wreck of the Zanzibar (started by hakkalina)
* Corvus - A Life With Birds Club (started by karen07814)



BOOKRINGS I'VE STARTED
*
A Journey Through the Seasons - A Calendar Mosaic
- HOME!
*
Rick Mercer's Streeters
- HOME!
*
Wanted Words and Wanted Words 2, by Jane Farrow
*
Measuring The Earth With A Stick by Bob McDonald
- HOME!
*
Momilies and More Momilies by Michele Slung
- missing
*
Q's Legacy by Helene Hanff -
stalled dead, as of December 2007
*
*G* Is For Grafton
- revived, thanks, Megi53!
*
The Dogs of Babel by Carolyn Parkhurst
-bookray, ended
*
The Storyteller's Daughter by Saira Shah
- HOME!
*
The Pull of the Moon - Elizabeth Berg

revived, thanks, Pinklady60!
*
Colouring Doodles - Floral colouring book

stalled dead, as of January 2007
*
As Always, Jack - by Emma Sweeney
*
Opening the Invitation - by Oriah Mountain Dreamer
- HOME!
*
The Ark in the Garden - Fables For Our Times, compiled by Alberto Manguel
-bookray, ended
*
The Sealed Letter by Emma Donoghue
*
The Bonesetter's Daughter by Amy Tan (audiobook)
stalled dead, as of June 15, 2008
*
Burn This Book ... and Move On With Your Life - by Jessica Hurley
Forgotten Bookmarks by Michael Popek