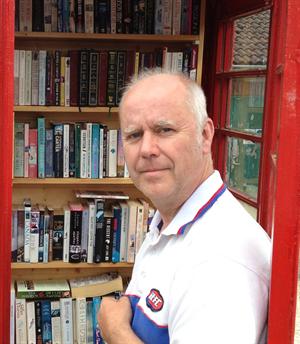 ardachy
Age 71
Joined Tuesday, April 11, 2006
Recent Book Activity
| Statistics | 4 weeks | all time |
| --- | --- | --- |
| books registered | 146 | 21,061 |
| released in the wild | 173 | 21,394 |
| controlled releases | 1 | 948 |
| releases caught | 19 | 2,869 |
| controlled releases caught | 0 | 682 |
| books found | 2 | 1,797 |
| tell-a-friend referrals | 0 | 37 |
| new member referrals | 0 | 58 |
| forum posts | 1 | 6,406 |
Extended Profile



"People disagreeing everywhere you look, makes you wanna stop and read a book." - Bob Dylan

Suffolk BookCrossers meet at CoffeeLink, Neptune Marina, Ipswich at lunchtime on the second Saturday of the month. Just look for the table with lots of books on.

I currently live in Ipswich but many of my releases were made when I lived in Essex and before that in Highland, Scotland.

The name 'Ardachy' comes from the name of the Bed and Breakfast my wife and I ran on the Black Isle in Highland Scotland at the time I discovered BookCrossing.

Thanks to swan-scot. who was instrumental in my discovering bookcrossing. I enjoy walking and cycling so I release books to picnic tables and benches on local walks and rides. I also swap lots of books at telephone box book exchanges and have currently visited over 200.. I am happy to consider trading books where the status set by me is 'Available' or 'To be read' although you may have to wait a little longer for one of the latter.

My Little Free Library is here.

I use this OBCZ directory

I am also Ardachy on Litsy

I am also Ardachy on LibraryThing

I am also Ardachy on Geocaching and am on the Facebook group
BookCrossing Geocachers

I am a member of Flickr and my bookcrossing photos may be found here

I have planted a tree in Bally Woods treesforlife.org.uk/---/394821/

World Book Club

I am a big supporter of micro-finance as a tool to help people get out of poverty. I am on the BookCrossing team on the following sites:-
Kiva
lendwithcare

Links to websites of some of my favourite authors:-
Kate Atkinson
Iain Banks
Stephen Baxter
William Boyd
John Boyne
Christopher Brookmyre
Becky Chambers
Chris Cleave
Richard Dawkins
Ben Elton
Dawn French
Neil Gaiman
Andrew Greig
Matt Haig
Mohsin Hamid
Joanne Harris
Tony Hawks
Elizabeth Haynes
Nick Hornby
Khaled Hosseini
John Irving
Kazuo Ishiguro
Rachel Joyce
Philip Kerr
Barbara Kingsolver
Ursula K Le Guin
Marina Lewycka
Cixin Liu
Ben Macintyre
Alexander McCall Smith
Ian McEwan
Michael Palin
Sandi Toksvig
Paul Torday
Andy Weir






You're I, Robot!

by Isaac Asimov

While you have established a code of conduct for many generations to
follow, your demeanor is rather cold and calculating. Brought up to serve humans, you
have promised never to harm them, to follow orders, and to protect yourself. Living up
to this code has proved challenging and sometimes even drives you mad. If you were a
type of paper, you would be pulp.


Take the Book Quiz
at the Blue Pyramid.