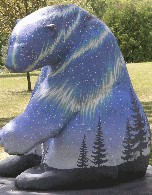 NorthernLights
Joined Wednesday, October 1, 2003
Recent Book Activity
| Statistics | 4 weeks | all time |
| --- | --- | --- |
| books registered | 6 | 1,853 |
| released in the wild | 1 | 1,837 |
| controlled releases | 0 | 37 |
| releases caught | 0 | 443 |
| controlled releases caught | 0 | 24 |
| books found | 0 | 109 |
| tell-a-friend referrals | 0 | 66 |
| new member referrals | 0 | 1 |
| forum posts | 0 | 1,163 |
Extended Profile
"The truth about stories is that that's all we are."
Thomas King, The Truth About Stories
Liste
:
Bücher indianischer Schriftsteller in deutscher und/oder französischer Übersetzung/
livres d'auteurs amérindiens traduits en allemand et/ou français
Meine Ringe
abgeschlossen
:
Wenn Coyote tanzt
-
Thomas King
(Übersetzung: Cornelia Panzacchi)
DreadfulWater kreuzt auf - Thomas King
(Übersetzung: Monika Blaich/Klaus Kamberger)
Der Kuss der Pelzkönigin - Tomson Highway
(Übersetzung: Thomas Bauer)
Native American Short Stories - Various Authors
Native American Literature: A Brief Introduction and Anthology - Gerald Vizenor (Hrsg.)
Crâneurs - Gerald Vizenor
(traduit par Thierry Chevrier)
Cheechum's Enkelin - Maria Campbell
(Übersetzung: Roswitha McCoppin)
Defeathering the Indian - Emma LaRoque
The Red Power Murders - Thomas King
A Coyote Columbus Story - Thomas King
What's the Most Beautiful Thing You Know about Horses - Richard Van Camp
Dead Voices - Gerald Vizenor
Toronto at Dreamer's Rock - Drew Hayden Taylor
The Berlin Blues - Drew Hayden Taylor
Furious Observations of a Blue-eyed Ojibway: Funny, You Don't Look Like One III - Drew Hayden Taylor
The Night Wanderer: A Native Gothic Novel - Drew Hayden Taylor
Medicine River - Thomas King
together with
Canadian Stars - Maxine Trottier
Medicine River - Thomas King
(traduit par Hugues Leroy)
Les esprits de l'océan - Eden Robinson
(traduit par Nadine Gassie)
Ringe
unterwegs/en route/travelling
:
- - -
Ich habe an der Canada Day Release Challenge 2007, 2008, 2009, 2010, 2011, 2012, 2013, 2014, 2015, 2016, 2017, 2018, 2019, 2020 und 2021 von
gypsysmom
teilgenommen.
Danke
für die folgenden Ringe/Rays:
schon weitergeschickt:
Haiku mit Köpfchen 2004
- diverse Autoren (Ring von heixly)
Balzac et la petite tailleuse chinoise
- Dai Sijie (Ray von sanne2)
Erreur-Errore-Irrtum
- diverse Autoren (Ring von hoefi)
Waterlily
- Ella Cara Deloria (Ray von arauca)
Die Nacht der Skinwalkers
- Tony Hillerman (Ray von hippo57)
Entrümpeln Sie Ihr Leben
- Harriet Schechter (Ring von Meeresbrise)
Unforgettable Books - Lieblingsbücher-Album
- BCers United (Ring von ihuru)
Oscar et la dame rose
- Eric-Emmanuel Schmitt (Ring von tchitchi)
Brokeback Mountain
- Annie Proulx (Ring von maresa)
Haiku mit Köpfchen 2005
- diverse Autoren (Ray von heixly)
Whalerider
- Witi Ihimaera (Ring von samulli)
Tagebuch einer Pennerin
- Lisa Engbers (Ring von Taurina)
Die Rübenkönigin
- Louise Erdrich (Ring von firlefanz)
Indianermond
- Betty L. Bell (Ring von hexle)
Bittersööt
- Anja Meyfahrt (Ring von ChaosHamburg)
Erklärt Pereira
- Antonio Tabucchi (Ray von Laura3012)
Folk: Von Joan Baez bis Adam Green
- Carl-Ludwig Reichert (Ring von All-Reich-KE)
Pilgern auf Französisch
- Coline Serreau (Ring von queball)
Weil ich keine Jüdin bin. Gedichte
- Katharina Schäfer (Patenschaftsring von Saguna)
Seele.Sucht.Sehnsucht.
- Mathias Jung (Ring von All-Reich-KE)
Der Tote im Fleet
- Boris Meyn (Ring von Zugleser)
Payback - Schulden und die Schattenseiten des Wohlstands
- Margaret Atwood (Ring von realkiku)
gerade bei mir: -
Danke
auch für
Der Windesser - Te Kaihau
- Keri Hulme (von book-man-8)
Through Black Spruce
- Joseph Boyden (von gypsysmom)
Poems, 1956-68
- Leonard Cohen (von turnpages)
The Temptations of Big Bear
- Rudy Wiebe (von turnpages)
Rebellen am Red River
- Kurt Lütgen (von Kaiser-Fan)
Barometer Rising
- Hugh MacLennan (von Urla)
Gefährliche Gewächse
- Karen Dudley (von knuppifax)
The Stone Diaries
- Carol Shields (von gypsysmom)
Late Nights on Air
- Elizabeth Hay (von Fracula)
An Ordinary Decent Criminal
- Michael van Rooy (von gypsysmom)
The Setting Lake Sun
- J.R. Léveillé (von gypsysmom)
Him Standing
- Richard Wagamese (von gypsysmom)
Manitoba au coeur de l'Amérique
- Anette Saint-Pierre (von gypsysmom)
Three Breaths
- Nancy Brady (von minesayn)
Perfume
- Patrick Süskind (von J4shaw)
Thunder Head
- Douglas Preston & Lincoln Child (von barbieq233)
Pictures from the Water Trade
- John David Morley (von redfox5)
The Red House
- Mark Haddon (von Abi-Gibby)
The Crocodile Bird
- Ruth Rendell (von Bloedengel)
The Last of the Nomads
- W.J. Peasley (von bookfrogster)
The Little Book of Peace
- Patricia J. Chui (ed.) (von herchelle)
The Road Past Altamont
- Gabrielle Roy (von gypsysmom)
Letzte Aktualisierung: 28.1.22