Les Chroniques de St Mary - Une trace dans le temps (Tome 4)
Registered by

Florence71

of
Fontenay-sous-Bois
,
Ile-de-France
France on 8/18/2023
2 journalers for this copy...

Journal Entry
1
by

Florence71

from
Fontenay-sous-Bois
,
Ile-de-France
France on Friday, August 18, 2023
Reçu pour mon anniversaire par ma sœur.
Pour Souram après lecture.
---

Journal Entry
2
by

Florence71

at
Fontenay-sous-Bois, Ile-de-France France on Wednesday, September 6, 2023
Pour le moment, ce tome est mon préféré de par les lieux visités par les historiens : Pompéi, l'Angleterre au temps de la peste notamment et la situation (que je devoilerais pas ici) en toute fin de volume qui rabat les cartes.
---

Journal Entry
3
by

Florence71

at
-Paris 12e, Ile-de-France France on Wednesday, September 6, 2023
Donné à Souram lors du MBC de Paris.
---

Merci, Florence71 je me réjouis de lire le tome 4 des Chroniques de St Mary !
---

Et donc qu'est-il arrivé ? Je l'ai commencé hier soir. La police du temps...
---


Je retrouve un évènement dépeint dans un roman de Robert Harris. Et donc j'avance dans ce tome 4 qui m'accompagnera demain en train tgv 🚄 sur le chemin du retour. Il faudra même atterrir après ce mbc , je promets d´essayer (damn où y a-t-il une cellule de dégrisement post mbc ?)
Image ci-contre: art de rue Paris 13e, 24.9.2023.
---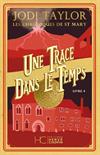 P.268: Nous devons nous aussi nous défendre. Peut-être jusqu'à la mort. Je sais que nous nous y attendions.
J'ai aimé ce tome 4 et trouvé qu'il pousse plus loin les thèmes de l'identité, de savoir se défendre. Et on arrive en 79 EC à Pompéi lors de la fameuse éruption (peut-être début octobre plutôt que le 23 août préféré par Robert Harris dans
Pompei
) Puis à l'époque de la peste bubonique en Angleterre (je me rappelle
The Company of Liars
de Karen Maitland lu en lien avec un ring ? ray ? international).
Le suspense se fait nettement palpitant, avec une traque. Jodi Taylor ajoute à la tension narrative l'obsession de Maxwell de ne "jamais laisser de trace". C'est plus dystopique que le tome 3 et sa guerre troyenne.
Et il se passe quelque chose de terrible, St Mary là-dedans bref je n'en dirai pas plus.
Les aléas du voyage retour Paris Gare de Lyon-Genève Cornavin (retard de 50 minutes sur un trajet censé durer 3 heures) m'ont permis de terminer la lecture de ce tome (je ne me figurais pas le finir si vite).
---


Lien vers le tome précédent t.3.
St Mary tome 3 Une seconde chance
Lien vers le tome suivant t.5
St Mary tome 5 Hier ou jamais
Image: Pompéi de nos jours.
---