Sticks & Scones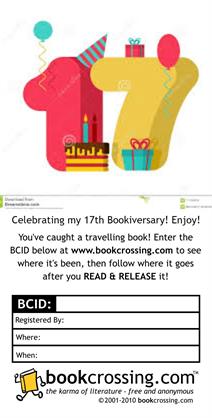 Registered by

Bookworm-lady

of
Madrid
,
Madrid
Spain on 4/30/2023
3 journalers for this copy...

Journal Entry
1
by

Bookworm-lady

from
Madrid
,
Madrid
Spain on Sunday, April 30, 2023
"For Colorado caterer Goldy Schulzm accepting a series of bookings at Hyde Castle is like a dream come true. (...) Goldy is determined that everything will go right... which is why, she figures later, everything went terribly wrong. It begins when a shotgun blast shatters her window. Then Goldy discovers a body lying in a nearby creek. And when shots ring out for the second time that day, someone Goldy loves is in the line of fire. Suddenly the last thing Goldy wants to think about is Shakespeare's Steak Pie, 911 Chocolate Emergency Cookies, or Damson-in Distress Plum Tart."
---

Journal Entry
2
by

Bookworm-lady

at
Madrid, Madrid Spain on Wednesday, May 3, 2023
Sent today to one of the four winners of WishList books for my 17th Bookiversary sweeps.... Kirjakko!
Enjoy your WishList book... and thanks for helping me celebrate! :)
---

Good Heavens! The New York Times is quoted to have called this a sinful novel. I had no idea...
Thank you, Bookworm-Lady, for sending this - I hope ;) . Loved your 17th anniversary note, which accompanied the book. I'm currently reading books which are heading to the Falkirk Convention in a month's time. So many books, so little time. But after my return I hopefully have more freedom to choose what I read.
---

Chose this sinful book, because it's on Annelis's wishlist and Doggy Dearest will be going to her for boarding in a week's time. I hope I will finish it in time, it is fatter than I remembered. My regular dog-sitters, aged 83 and 82 yrs, are frolicin in Italy, so I decided to try a younger vintage. Annelis wasn't exactly jumping of joy, but didn't know how to say no.
We have a presidental game going on on the Finnish forum, because we have an election coming soon. The challange is to find as many presidents as possible and I spotted Herbert Hoover on page 25. I might have him already, having recently read a memoir of one of Kennedy's mistresses. She had been 19 yrs old and worked as a trainee in White House for four long days before Kennedy bedded her - he was a fast one! I can't say that I like this hunt (trash) magazine's have for the private lives of well-known people, but on the other hand it wasn't good either when there was no control for the high and mighty - there should be a middle road.
A letter written by Henry VIII was mentioned in this book. Since I've read Greene's Travels with my aunt I can't think of Henry without remembering this old music-hall song:
"I married the widder next door
She 'ad 'ad seven Eneries before
Enery the Eight I am."

---


Blue & white Delft tiles mentioned. I've seen them in Victor Hugo's house on Guernsey, where he was on exile for 15 years, having fallen from grace of Napoleon III. Not a bad place to be in exile. He wrote Les Miserables in this house.
---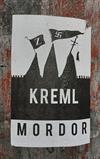 A cookie jar in the shape of Kremlin would not be a big hit today...
---


Young Prince Charles mentioned.
---


He became King Charles II this spring.
---


As we said goodbye to his mother a little over a year ago.
---

---

I'll be heading to Annelis today, as she has promised to take some books to a meet-up in Tampere on Saturday. On Saturday evening she will get the pleasure of having Doggy Dearest for nearly a week.
By the way. I did write the article I mention, the one I should have been writing when I read this book. Began yesterday at 8.30 pm and finished at 5.30 am. Slept for a few hours and have survived today at work better than I thought I would.
---

Thank you for the book, both of you!
I hope we both survive next week, Doggy and me!
---