Aime Sacrez
visit this artists online gallery.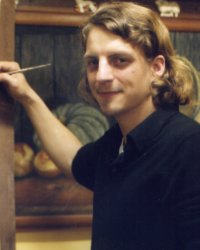 Aime Sacrez began his art studies informally as a caricaturist at the age of 11 in Townsville, Australia. Around this same time, he worked with poet Susan Macauley, illustrating her books.
At age 17 he moved to Florence, Italy to study classical sculpture, drawing and painting at the Charles H. Cecil Studio. He travelled extensively in Europe, and in London he worked as a portrait painter. His studies continued in Florence, returning to Australia in 2001 to paint in the southern Australian bush. In 2002, he moved to Queensland, Australia where he continued to produce numerous commissioned portraits as well as teach students.
In 2004, he studied the traditional technique of Japanese ink wash painting - suibokuga in Japan. Over the next few years Aime continued to do work in London and Florence before returning to Australia. He currently resides in Melbourne, Australia with his wife.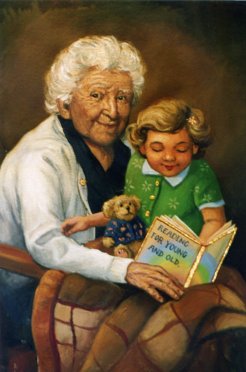 Reading Is For Young And Old
57 by 75 cms Acrylic on paper featuring gold leaf