A message from Ballycumber
March 1, 2022
Here is a special message from Ballycumber, who wants to talk about sunflowers, for some reason.
"Hello BookCrossers! I'm here today to tell you that I love sunflowers. Don't you love sunflowers too? They're so bright and sunny... you could say they're BookCrossing yellow. They're a symbol of hope and strength. And they help feed the world with one of the best cooking oils you can use.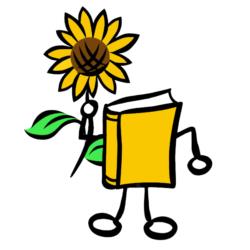 Here comes the best part... Our techies have added sunflowers as a Wings option! So from now on, you will be able to adorn your name on this site with some bright yellow sunflowers.
There is another thing I love and that's peace. We all deserve to have peace so that we can read our books. That is why we have also added a Peace symbol Wings option.
Peace and good books to all!"
Thank you, Bally! We're sure many of our members will appreciate these new Wings!