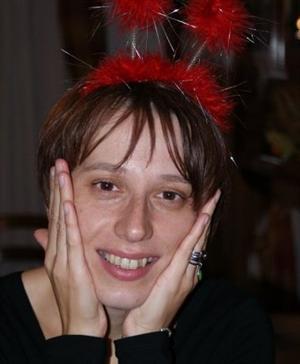 lizzyblack
Age 46
Joined Tuesday, February 17, 2004
Recent Book Activity
| Statistics | 4 weeks | all time |
| --- | --- | --- |
| books registered | 0 | 609 |
| released in the wild | 0 | 636 |
| controlled releases | 0 | 165 |
| releases caught | 0 | 126 |
| controlled releases caught | 0 | 146 |
| books found | 0 | 250 |
| tell-a-friend referrals | 0 | 79 |
| new member referrals | 0 | 12 |
| forum posts | 0 | 1,646 |
Extended Profile
Welcome visitor! I am a Bookcrossing member from 2004 and love this site as, not only my books have the chance to travel the world, but I also met loads of great people throught Bookcrossing! Enjoy your visit!



I am on RABCK.com and you can find my wishlist on this page; I like to send RABCK when it's possible, but this doesn't mean I can send you the AVL and TBR books just because you ask. I am sorry but due to shipping costs (and some rude people) I am sending/giving books on my own decision.





www.goodreads.com/---/widget2.swf" quality="high" wmode="transparent" FlashVars="id=2663513&shelf=read&title=Elisabetta's bookshelf: read&sort=date_added&order=d&params=amazon,,dest_site,">

www.goodreads.com/---/2663513-elisabetta"
target="_blank">
www.goodreads.com/---/widget_logo.gif" title="Elisabetta's book recommendations, reviews, favorite quotes, book clubs, book trivia, book lists" width="190" />





Are you going to visit Italy, or just want to have a chat with Italian Bookcrossers? Check our forum!! Please, even if you don't speak Italian, do not hesitate to take a tour! There's a special section for foreign languages speakers, and we'll be happy to welcome you!!!



La vecchina, Moltrasio


I know that PM's sometimes just don't reach their destination, so if you send me a PM and I don't answer in a while, feel free to contact me at witchlizATgmailDOTcom


I collect the 3rd (The prisoner of Azkaban) or the 1st (The philosopher's stone, only if the 3rd is not available)of Harry Potter's book in every language. This is on my only Holiday gift giving wish, but If you'd like to help me sending one I don't have yet, I can also return a book from your wishlist or one of my available's you'd like, or see if you have a wish in the Holiday gift giving. Thanx :) The ones I gathered up to now are:
Italian
English (UK version)
English (US version)
German
French
Norwegian
Greek
Polish
Singapore version (Chinese. Thanx to ApoloniaX for helping me understand which language it was :))
Turkish
Irish
Hebrew
Arabic
Danish
Hungarian
Spanish
Swedish
Estonian
Hindi
Catalan
Slovenian
Portuguese

(Thanx to LiberLiber, Gahan, Peachy93722, -Virgilio-, Babina, Mimonni, Lavale, Tipperary, Theut, Mizzy, Valeh, Luna78, Hakkalina, Lilacwhisper, Pippis, Ghir and Matti+Fabi for the copies of HP they kindly bought and gave me ;))


"With another chock of excitement, Harry saw Sirius give James the thumbs-up. Sirius was lounging in his chair at his ease, tilting it back on two legs. He was very good-looking; his dark hair fell into his eyes with a sort of casual elegance neither James's nor Harry's could ever have achieved, and a girl sitting behind him was eyeing him hopefully, though he didn't seem to have noticed." Harry Potter and the order of the Phoenix


My birthday buddies are: Releanna (Feb.25th), ApoloniaX (Jan. 27th), Belinny79 (August 2nd) :D





You can find me at RABCK.COM




Ho un debito verso la specie felina per un particolare tipo di rispettabilissima astuzia, per il grande controllo che ho su me stessa, per una caratteristica avversione ai suoni brutali e per il bisogno di stare in silenzio per lunghi periodi