katyan
Joined Friday, August 12, 2005
Recent Book Activity
| Statistics | 4 weeks | all time |
| --- | --- | --- |
| books registered | 0 | 324 |
| released in the wild | 0 | 439 |
| controlled releases | 0 | 3 |
| releases caught | 0 | 194 |
| controlled releases caught | 0 | 2 |
| books found | 0 | 142 |
| tell-a-friend referrals | 0 | 293 |
| new member referrals | 0 | 15 |
| forum posts | 0 | 934 |
Extended Profile
Here's one cool book about seeking the truth that you can download for free...enjoy!
www.aseekersjourney.org/
"Sometimes you got to let the old balls go... so that you'll have space for some new ones you might find in the most surprising places." -Satya
Hello Friend,
you're most welcome to take a look to my bookself, and if you find something interesting there, feel free to pm me. I'm willing to trade my books (& send RABCKs) or borrow the books I have at my permanent collection.
tinypic.com"
target="_blank">
i14.tinypic.com/4p94c49.jpg" border="0" alt="Image and video hosting by TinyPic">
Books with golden retrievers
With Satya (in the picture) we love to read books where there's golden retrivers (even just visiting for some pages). So far we've read these books with golden retrivers
Golden Retriever Books
Jenny Oldfield: Kultainennoutaja kuoleman kielissä (Eläinlääkäriasema Beech Hill)
Mark Haddon: The curious incident of the dog in the night-time
Eija Wager: Tupaantulijaiset Italiassa
Bruce Fogle: A dog abroad
Carol Shields: Unless
Tom Davis: Why Goldens Do That: A Collection of Curious Golden Retriever Behaviors
Nona Kilgore Bauer: Golden retrievers for dummies
Marjorie McHann: My Rescued Golden: True Stories of Rescued Golden Retrievers and the People Who Love Them
Denver Bryan: 101 Uses for a Golden
Jenny Dale & Mick Reid: Charlie's choice (Puppy Patrol #20)
Laurien Berenson: Jingle Bell Bark
Helena Suni: Golden Info
Eve Adamson: The Golden Retriever
I really love reading books. I have to read a lot also for my work, so I cannot always read other books as much as I would like, but especially during the weekends I just love to take a good book and lay down on our soft sofa and enjoy a new great story. I live in a small city of Central Finland, and many times share my bookcrossing adventures with a lovely golden retriever
Satya
(whose picture you can see above). We also love to meditate together (
Sahaja yoga
) and to have long, long walks in the nearby forests, and enjoy the peace and silence of nature. I'm the "reader" of the family, and Satya often accompanies me with the books, especially when I let her to come on the sofa with me... So that's also the explanation why sometimes you might find dog hairs in between the books that I've released! Satya is also very fond of meditating with me, however, she often starts to snore too loudly...
Besides books related to Lord of the Rings and J.R.R. Tolkien, I love to read books about animals, especially dogs and horses. I also collect books about golden retrievers, and seldom can let go books related to LOTR... Recently, however, I've been thinking to buy some of my favourite books for bookcrossing releasing purposes (including lotr) just for to spread the joy around :) . One funny thing that I also collect is post cards about horses, I started it as a little horse-girl, and have more than 1000 different ones currently...:)
tinypic.com"
target="_blank">
i14.tinypic.com/2yl8ef8.jpg" border="0" alt="Image and video hosting by TinyPic">
If you wish to experience your
self-realization
through
sahaja yoga
, you can do it
www.sahajayoga.org/---/default.asp"
target="_blank">
here
i2.tinypic.com/vhqnns.jpg"
border="0" alt="Image and video hosting by TinyPic">
You are most like Aragorn. You have strong convictions and you stick to them. Although you are more of a recluse, you are extremely loyal to the few friends that you have. You are very serious about things, but you like having fun. Fame and fortune mean little to you, and you aren't concerned with being popular. Good for you!
What LoTR Character Are You?
So that's us... and here's something more about the books I've been reading and releasing...
Joensuu University Release 2008
My Advent Calendar 2006 - Joulukalenterini 2006 & 2007!
My University Release - Yliopisto vapautukseni (University of Jyväskylä)
Our favourite books
Book from every country in the world challenge
My Wish list
(Thank you Cliff1976!)(Some of the wishes belongs to Satya, you might guess which ones...:))(We are also happy to read all these books in Finnish!)
..............................
How did it start for me?

Before joining bookcrossing.com I've been releasing books, journals, etc. in the wild :) alone. I remember when I was living in a student house, it was fun to leave the newspaper (every morning after I had read it) somewhere for somebody else poor student to find it and enjoy. After that I was also releasing some books, etc., and I've always find it nice to give this kind of an unconditioned love or joy to somebody stranger.
All this began actually years, years ago when I was working in a big supermarket taking care of the vegetables there. Every morning I had to go there at six o'clock, and sometimes even before, and clean the vegetables, put some new ones on the tomato- or couliflower mountains, and make everything look nice. And everybody knows that a) it's hard to wake up at that time every morning when you know it's a beautifull summerday there just starting, and you know all your friends are still asleep, b) old, bad vegetables doesn't smell very nice... c) you just wish one day all these boxes full of vegetables and fruits would learn to walk by themselves and you didn't have to carry them all by yourself...
Anyway, there was one morning like that again, and I was there carrying the boxes, and smelling like an old cabbage, and building a mountain of couliflowers. I was finnishing that mountain and emptying one last box of the couliflowers. And what did I see? When I took out the last couliflowers, and saw the bottom of that box, I saw also one smiling face that somebody had drawn on the bottom, and written below: "Hello friend, your smile is sooo beautifull this morning!"
After, I was smiling all day long.
...
And after, I felt I would love to give that same smile to somebody else.
And as I love books, I found bookcrossing to be a good way of passing that smile forward.
.............................................................................
Just to mention a few, I also would like to thank all these lovely bookcrossers who surprised us with some most delightful books:
aava
,
Alvhyttan
,
AmberMoon
,
bybee
,
CandyDarling
,
carlissa
,
celticstar
,
chrisim
,
cougmax
,
digdi
,
dotdot
,
FeralReader
,
flanners
,
gussy916
,
harmaja
,
hendertuckian
,
hobbit
,
hotflash
,
kemppu
,
lalaneela
,
louhi
,
lukutuoli
,
meganh
,
mlbish
,
Niksu
,
Niora
,
paavo33
,
piiku
,
rafangel
,
ReetPetite
,
reulte
,
SkingList
,
sheepseeker
,
sobergirl
,
sorgin
,
tintti
,
tobysrus
,
Valpuri
,.
............................................................................
Books registered by us have travelled to all these countries (Australia, Austria, Belgium, Canada, Estonia, Finland, France, Germany, India, Italy, Netherlands, Norway, Portugal, Spain, Sweden, United Kingdom, United States)
create your own visited countries map
Katyan's favourite books
I love all kinds of books, books of J.R.R. Tolkien, travel books, historical stories, novels, children's books, poems...etc. I also love stories about animals, especially dogs & horses. Here's a list of few books & authors that I feel have something
really
special to offer:
John Grogan:
Marley & me
J.R.R. Tolkien:
Lord of the Rings
J.K. Rowling: Harry Potters (all)
Jan Guillou:
Tie Jerusalemiin (Jerusalem Thrilogy -serie)
(4 books :))
Mark Haddon:
The curious incident of the dog in the night-time
Arno Kotro:
Musta morsian (Black bride)
Arno Kotro:
Sanovat sitä rakkaudeksi (They call it love)
Astrid Lingren:
Veljeni Leijonamieli (The brothers lionheart)
Mauri Kunnas:
The Canine Kalevala
(& others)
James Herriot's books
Richard Bach:
Lokki Joonatan (Jonathan Livingstone Seagull)
Elina Karjalainen:
Uppo-Nalle
C.S. Lewis:
Narnia
Robin Hobb:
The Farseer
& The Tawny Man Trilogies
Kahlil Gibran:
Mestarin sanoja (All books)
Shri Mataji Nirmala Devi Shrivastava: Meta Modern Era
C.S. Lewis:
The Great Divorce (The marriage of Heaven and Hell)
Some great authors
Virpi Hämeen-Anttila
Mark Haddon
J.K. Rowling
Robin Hobb
sorting-hat.com/---/sorthatg.gif"
sorting-hat.com"
target="_blank">I'm
a Gryffindor!
And you?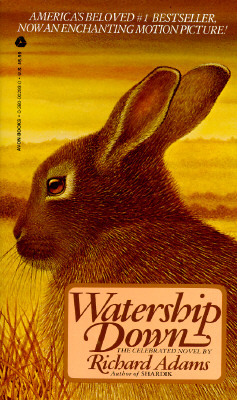 You're Watership Down!

by Richard Adams

Though many think of you as a bit young, even childish, you're actually incredibly deep and complex. You show people the need to rethink their assumptions, and confront them on everything from how they think to where they build their houses. You might be one of the greatest people of all time. You'd be recognized as such if you weren't always talking about talking rabbits.


Take the Book Quiz
at the Blue Pyramid.
Links that we love
Tolkien Trail
Lord of the Rings character test
Sahaja yoga (International)
Sahaja yoga (Finland)
J.K. Rowling
Lord of the Rings (movie)
Harry Potter (movie)
Robin Hobb's Home
La Sombra del Viento
Earth from above
Found Art
Waris Dirie
The Plenty (Robin Hobb fans)
BC HTML guide
The Hobbit (movie)
DrPhil
www.rapidcounter.com/signup.php"
target="_top">
www.rapidcounter.com/"
target="_top">Free Site Counter
Since September 13, 2005
From the
1001 Books You Must Read Before You Die
I've read the following books:
48/1001
2000s
19. The Curious Incident of the Dog in the Night-Time – Mark Haddon
49. Life of Pi – Yann Martel
52. The Devil and Miss Prym – Paulo Coelho
54. White Teeth – Zadie Smith
1900s
90. Veronika Decides to Die – Paulo Coelho
196. A Prayer for Owen Meany – John Irving
203. The Satanic Verses – Salman Rushdie
239. A Maggot – John Fowles
256. The Unbearable Lightness of Being – Milan Kundera
293. The Name of the Rose – Umberto Eco
294. The Book of Laughter and Forgetting – Milan Kundera
302. The Cement Garden – Ian McEwan
303. The World According to Garp – John Irving
312. The Shining – Stephen King
375. Slaughterhouse Five – Kurt Vonnegut, Jr.
376. The French Lieutenant's Woman – John Fowles
399. One Hundred Years of Solitude - Gabriel García Márquez
409. The Magus – John Fowles
411. Wide Sargasso Sea – Jean Rhys
427. Cat's Cradle – Kurt Vonnegut
433. The Bell Jar – Sylvia Plath
436. One Flew Over the Cuckoo's Nest – Ken Kesey
494. The Lord of the Rings – J.R.R. Tolkien
521. The Old Man and the Sea – Ernest Hemingway
529. The Catcher in the Rye – J.D. Salinger
564. Animal Farm – George Orwell
574. The Little Prince – Antoine de Saint-Exupéry
592. The Grapes of Wrath – John Steinbeck
608. Of Mice and Men – John Steinbeck
610. The Hobbit – J.R.R. Tolkien
672. Les Enfants Terribles – Jean Cocteau
684. Steppenwolf – Herman Hesse
699. The Great Gatsby – F. Scott Fitzgerald
717. Siddhartha – Herman Hesse
780. Heart of Darkness – Joseph Conrad
783. Kim – Rudyard Kipling
1800s
825. The Adventures of Huckleberry Finn – Mark Twain
837. The Brothers Karamazov – Fyodor Dostoevsky
840. Anna Karenina – Leo Tolstoy
848. Around the World in Eighty Days – Jules Verne
863. Little Women – Louisa May Alcott
866. Journey to the Centre of the Earth – Jules Verne
904. Jane Eyre – Charlotte Brontë
908. The Three Musketeers – Alexandre Dumas
918. Oliver Twist – Charles Dickens
930. Ivanhoe – Sir Walter Scott
932. Northanger Abbey – Jane Austen
938. Pride and Prejudice – Jane Austen
1700s
Pre-1700


You Know You're Addicted to LotR When...


You start quoting from the movie as part of regular conversation.

All the staff at your local cinema knows you by your first name and even before you open your mouth to speak, they say "Ticket for 'Fellowship of The Ring?'"

You hate Burger King food, butyou ate nothing else for a month to get the toys.

You've crammed up your computer's memory by downloading every single screensaver from www.LordoftheRings.net

Your Lord of the Rings shirt has not yet met the washing machine.

You don't have enough money to buy groceries for the next week before payday, yet you charge ?50 on your credit card to get a three year charter membership in the official LOTR fan club. Who needs food anyway?

You hate it when Elves are only thought of as 'Santa's little helpers' and have tried to explain the difference between Santa-elves and Syrian Elves to your 5-year old cousins.

While buttering a piece of bread, you suddenly think of Bilbo (remember when he was talking to Gandalf about feeling tired) saying that he felt 'like butter spread over too much bread.'

You have a replica of The One Ring.

You actually managed to read the Silmarillion without being tempted to give up on this whole middle earth malarkey.

You haven't removed the soundtrack from your CD player since you bought it.

You have sssudenly developed a hisssing lisssp every time you sssay the letter ssss.

You have looked both on the net and in the phone book to see if archery and sword fighting lessions are offered in your area.

You have begun calling your husband / wife / girlfriend/ boyfriend / animal or kid my precioussss.

You happily traveled over an hour to the next town to see "it" because that theater has a better sound system than the one 5 minutes down the road.

You know The LoTR history better then your family history.

You have a mouse named Frodo, a bird named Gollum, and a dog named Gandalf. And that cat that keeps coming around to be petted is Legolas.

You know Elvish better then English.

You know everything about Middle Earth geography, but you can't get someone from your house to the ice cream parlor. Now the nearest movie theater, that is a different story.

You think the names of the 7 dwarves from Snow White are: Gimli, Gloin, Thorin, Gili, Nili, Ori, and Bambour.

You have developed your own special Tolkien handwriting. "A firm, flowing script..."

Words like "Yrch" make sense to you.

There's a sign on your door saying "Speak Friend and enter!"

You change your name by deed poll to a Tolkien character and seriously consider naming your children after LOTR characters.

Your computer's screensaver is a marquee reading, "Ennyn Durin atan Moria: pedo mellon a mino" and the password is actually "mellon".

You now referring to your friends as your 'Fellowship' and insist that you have epic adventures.

You stand in the doorway and tell your cat that he 'Can not pass'.

Spending $35 at the grocery store seems expensive but its Perfectly fine to spend $70 on the Hardcover LOTR book with Alan Lee Illustrations.

You start keeping a LOTR Journal to write poems and inklings in.

You face every difficult decision with the thought "now what would Gandalf advise me to do?"

You've gained 20 pounds because you've started eating a "Second Breakfast"

A walking stick... you never leave home with out it.

You actually get these jokes and pass them on to other friends who are addicted to Lord of the Rings.