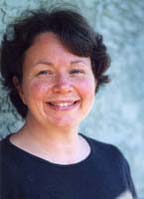 goatgrrl
Age 59
Joined Friday, February 6, 2004
Recent Book Activity
| Statistics | 4 weeks | all time |
| --- | --- | --- |
| books registered | 0 | 1,068 |
| released in the wild | 0 | 562 |
| controlled releases | 0 | 2 |
| releases caught | 0 | 89 |
| controlled releases caught | 0 | 0 |
| books found | 0 | 44 |
| tell-a-friend referrals | 0 | 685 |
| new member referrals | 0 | 14 |
| forum posts | 0 | 368 |
Extended Profile
www.boothill.ca/---/letters.jpg" border="3" cellpadding="25">


about the goatgrrl
I live in New Westminster, British Columbia (just outside Vancouver) with my mate Len and stepson Daniel. My interests include local history (especially the history of the former British Columbia Penitentiary), collecting Canadian first editions, digital photography and -- of course -- reading. I think information should be free, and -- where possible -- that books should be, too. I like the idea of releasing books in my own community, where I suspect literacy may be on the decline.

I spend over an hour a day commuting, and when I'm not struggling with the Globe & Mail crossword, I read mysteries and literary fiction. The novels I love most are those that teach me something about the world, or make me view some aspect of my own social, political or emotional experience in a new way. In the past few years some of my favourites have been English Passengers by Matthew Kneale, Tomson Highway's Kiss of the Fur Queen, Middlesex by Jeffrey Eugenides, Monkey Beach by Eden Robinson and Anthony Powell's twelve-volume series, A Dance to the Music of Time.

In 2002 I set myself a challenge to read all winners of the Booker Prize since 1969 (I like tracking the winners of other book prizes, too). Easily distracted, I'm still working on the Booker project.
why bookcrossing?
In my early adult life I amassed a huge library of non-fiction paperbacks on topics ranging from Latin American politics to Tibetan Buddhism, legal regulation of pornography to Marxist-feminist theory. People used to walk into my house and say things like "wow ... have you actually read all these books?" (I hadn't). These days I'm less inclined to that particular form of self-aggrandizement, and I'm also right out of room. With the internet at my fingertips it's more difficult to justify keeping old books around for reference, so I'm slowly letting go of many of them (if not my interest in their subject matter), along with a steady stream of paperback novels I pick up at used bookstores. I think Bookcrossing is an interesting and worthwhile experiment, the returns on which will be revealed over years rather than weeks or months (kind of like the rubber ducks that started washing up on the Alaska coast twelve years after they tumbled off a freighter in the north Pacific).
my best wild catch stories...
I released Cat's Eye at my favourite Starbucks, and my pal waywenoc found it -- then had her article about the experience published in the June 2004 issue of News & Whatnot. I left Death Benefit at a neighbourhood pub in New Westminster, and someone found it on the Skytrain -- then took it home to Brazil. I released The English Patient in a hotel lobby in the Yukon and the finder took it to Miami. I left Fifth Business at the 'Famous Five' monument in Ottawa, and it was next journaled by someone who found it in the Halifax Botanical Gardens. I left The Garden Club & the Kumquat Campaign in the waiting room by the Cardiac Surgical Unit at Royal Columbian Hospital in April 2004, and sixteen months later it showed up near Sylvan Lake, Alberta.

How the Light Gets In travelled by bookring to eight different countries, and was finally wild released and picked up at the Bellin Run, a 10K run in Green Bay, Wisconsin. In June 2005 someone picked up my copy of Boy Still Missing at Mangez, Mangez in Vancouver and a year later he or she left it at the Flin Flon airport in northern Manitoba. I released Anil's Ghost at a Skytrain station in Vancouver and it was picked up six months later in Christchurch, New Zealand. What We All Want was left in the Cardiac Surgical Unit at Royal Columbian Hospital in New Westminster, British Columbia in July 2004, and showed up in January 2007 at a Curves gym in Puerto Vallarta, Mexico. I left The End of California in a hotel in Nelson, British Columbia in June 2007 and in November of the same year it washed up in Belfast, Ireland.