dschinny
Joined Thursday, March 4, 2004
Recent Book Activity
| Statistics | 4 weeks | all time |
| --- | --- | --- |
| books registered | 1 | 504 |
| released in the wild | 0 | 771 |
| controlled releases | 2 | 180 |
| releases caught | 0 | 488 |
| controlled releases caught | 3 | 161 |
| books found | 7 | 573 |
| tell-a-friend referrals | 0 | 59 |
| new member referrals | 0 | 9 |
| forum posts | 16 | 2,579 |
Extended Profile
Lesen, lesen und die Welt wird schöner
Ernst Hagen
People say that life is the thing, but I prefer reading.
Logan Pearsall Smith
Currently Reading
Alles, was wir geben mussten
A Love Story
To Be Read Next
Other Birds
Die unvergleichliche Miss Kopp und ihre Schwestern von Amy Stewart
The books on my AVL shelf do not necessarily represent my reading preferences! For those please check my wishlist or the books on my TBR shelf.
If you are interested in any of my books marked "available" just send me a PM and we'll work something out. For books marked "to be read" you can send a PM as well and I will move it to the top of Mt. TBR.
My own current Bookrings, -rays and -boxes:
None at the moment BookRing - still open to join
My personal Hamburg Challenge: 1 district = 1 book
(104 districts = 104 books from 1 July 2012) - based on an idea by Physalis74
Number of books released: 22
Number of catches: 1
Number of Newbies: 0
Updated 19.5.2021
I enjoy meeting bookcrossers at meetups all over the world. Here you can see where I have met other BC members:
Germany:
Hamburg
(of course) - at different locations
Kiel
- Café Prinz Willy, Charmissimo, Günthers Enkel
Bremen
- Restaurant Überseemuseum
Lübeck
- Café Art
Frankfurt
- Mosebach
Uelzen
- Metronom to Hamburg (hoefis BC-Deutschlandfahrt 2007)
Bamberg
- Café Abseits
Coburg
- Hungry Highlander
Flensburg
- Kritz, Roter Hof
Berlin
- UnCon 2012, Café Selig
Nürnberg
- UnCon 2014
Bremerhaven
- UnCon 2015
Elmshorn
- Café Lykke
Oland
- Hallig Meetup
Plön
- Markt Café, Picknick im Schlossgarten
Mainz
- Convention 2019
Abroad:
London, UK
- Stamford Arms, The Natural Café, Cittie of Yorke, Allsop Arms
Sydney, Australia
- Cricketer's Arms Hotel
Dublin, Ireland
- Westmoreland Pub (Cassidy's)
Edinburgh, UK
- Joseph Pearce Pub
Stockholm, Sweden
- Esspresso House Cityterminalen
I am currently waiting for the following Bookrings, -rays and -boxes:
Der Palast der Meere (audio ray started by Hexle)
Eine Frage der Chemie (audioring started by Kerstin1602)
Miss Bennet (ring started by kittybrombeere)
EU BookBox (started by Fifna)
I'm trying to cut down on these so that I will eventually be able to actually reduce my Mt. TBR. Because my motivation to join BC had a lot to do with wanting to REDUCE the amount of books I have ;-))
Die zehn unantastbaren Rechte des Lesers von Daniel Pennac
1. Das Recht, nicht zu lesen
2. Das Recht, Seiten zu überspringen
3. Das Recht, ein Buch nicht zu Ende zu lesen
4. Das Recht, noch einmal zu lesen
5. Das Recht, irgendwas zu lesen
6. Das Recht auf Bovarysmus
7. Das Recht, überall zu lesen
8. Das Recht herumzuschmökern
9. Das Recht, laut zu lesen
10. Das Recht zu schweigen
Öffentliche Bücherschränke:
openbookcase.de/map
de.wikipedia.org/---/Liste_%C3%B6ffentlicher_B%C3%BCcherschr%C3%A4nke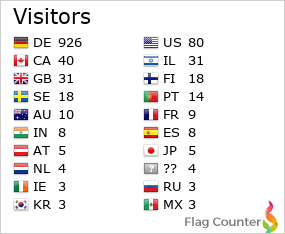 since April 2023