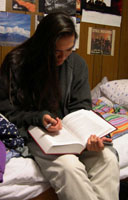 Telerandil
Age 43
Joined Saturday, November 27, 2004
Recent Book Activity
| Statistics | 4 weeks | all time |
| --- | --- | --- |
| books registered | 0 | 82 |
| released in the wild | 0 | 57 |
| controlled releases | 0 | 0 |
| releases caught | 0 | 2 |
| controlled releases caught | 0 | 0 |
| books found | 0 | 3 |
| tell-a-friend referrals | 0 | 0 |
| new member referrals | 0 | 1 |
| forum posts | 0 | 2 |
Extended Profile
I'm a lawyer in training, so I almost always have my nose in a thick, boring, terribly dry book. When I'm not reading, I'm napping.
My [lovely, caring, and intelligent -Ed.] girlfriend,
midwinter
, takes advantage of this to do things like update my BC profile. She's the one who got me involved in bookcrossing (and the one writing this profile while I'm taking a nap). [I let her do things like this because she gets the cutest look of determination on her face when she's up to something. -Ed.]
Looking for my wish list?
Check here
[Edited 1 time by Telerandil]