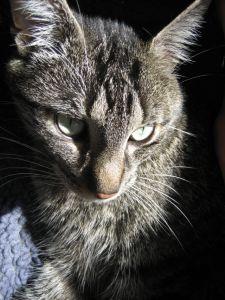 Risa29
Age 47
Joined Saturday, August 21, 2004
Recent Book Activity
| Statistics | 4 weeks | all time |
| --- | --- | --- |
| books registered | 3 | 458 |
| released in the wild | 3 | 370 |
| controlled releases | 0 | 38 |
| releases caught | 0 | 58 |
| controlled releases caught | 0 | 21 |
| books found | 0 | 118 |
| tell-a-friend referrals | 0 | 178 |
| new member referrals | 0 | 24 |
| forum posts | 0 | 579 |
Extended Profile
Last update: 18. September 2014
About me:

I've been a book addict ever since I learned to read.
When I was about 15 or 16 I had read more or less the whole teen section of the public library in my town.

Since I discovered Bookcrossing, my reading addiction has become even stronger. At the beginning of my involvment with bookcrossing I hoped that it would help me organise my bookshelves and let go of books I know I won't read a second time and thus create free space on my bookshelves. Little did I know the effects of BC! It actually has caused my mount TBR to grow uncontrollably and now I'm just struggling to keep it at a size where I can at least pretend to be in control.

The books on my bookshelf don't necessarily reflect my reading tastes. They're just the books I can bear to part with and books that have been temporarily in my possession as Bookrings, Bookrays, trades and the just-bought-to-release books.

You're interested in one/some of my books?

I normally do trades, at least within Europe. So if you find a book you'd like to read amoungst my AVL books, don't hesitate to ask. In general I prefer an exchange book to being payed postage for the one I send, but then again, asking can do no harm :-)






www.maploco.com/---/1799156.png" alt="Visitor Map">
Create your own visitor map!