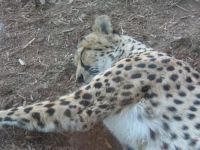 MissQ
Joined Friday, August 23, 2002
Recent Book Activity
| Statistics | 4 weeks | all time |
| --- | --- | --- |
| books registered | 0 | 214 |
| released in the wild | 0 | 125 |
| controlled releases | 0 | 0 |
| releases caught | 0 | 78 |
| controlled releases caught | 0 | 0 |
| books found | 0 | 85 |
| tell-a-friend referrals | 0 | 48 |
| new member referrals | 0 | 3 |
| forum posts | 0 | 728 |
Extended Profile
I took this picture at the Toronto Zoo when we were there back in September. I think it's such a cute picture! Doesn't the cheetah look just like a little kitty napping (though I'm glad glass separated me from the "kitty")? Awww...
I'm an avid reader, even more so since joining BookCrossing. I like to read pretty much anything except romance and historical novels. My favorites authors range from Dean Koontz and Stephen King to Yann Martel and Alice Hoffman. I am still trying to complete my hardcover Dean Koontz collection so, if you have any HC Koontz, let me know!
I'm clearing out the following BC books (in no particular order) that I've held on to for way too long. Please send me a PM if you're interested. Note: If you ask for several books or hardcover books, I may ask for help with postage.

* Local Girls – Alice Hoffman
* Burnt Sienna – David Morrell
* The Killing Game – Iris Johansen
* 4 Blondes – Candace Bushnell
* The Dark Tower 1: The Gunslinger
* Deepsix – Jack McDevitt
* Moonfall – Jack McDevitt
* Relief From IBS – Elaine Fantle Shimberg
* Desert Places – Blake Crouch
* The Holcroft Covenant – Robert Ludlum
* Black Lightning – John Saul
* Dressing up for the Carnival – Carol Shields
* H: The Story of Heathcliff's Journey Back to Wuthering Heights – Lin Haire-Sargeant
The Koontz hardcovers I'm still looking for are:
* The Door to December
* The House of Thunder
* Demon Seed
* Twilight Eyes
* Night Chills
* Shattered
* Chase
I'm also looking for the following Stephen King books (from oldest to newest):
* The Long Walk
* The Running Man
* Nightmares and Dreamscapes
* Insomnia
* Rose Madder
* The Green Mile
* The Girl Who Loved Tom Gordon
* The Plant
* Dreamcatcher
* Everything's Eventual: 14 Dark Tales
* From a Buick 8
Note:
In order to better keep track of what I've read and what I thought about certain books, I've decided to register some of my personal collection books. Most of these will remain in my PC.
Currently Reading:
The Husband - by Dean Koontz (PC)
Recently Read:
Cloud Atlas
- by David Mitchell
The Ice Queen
- by Alice Hoffman
Midwives - by Chris Bohjalian (PC)
Where or When - by Anita Shreve (PC)
Second Nature
- by Alice Hoffman
Forever Odd - by Dean Koontz (PC)
Girl in Hyacinth Blue
- by Susan Vreeland (PC)
Sweetness in the Belly - by Camilla Gibb (library book - January Book Club Pick)
Rush Home Road
- by Lori Lansens
Wild Dogs
- by Helen Humphreys (PC - November Book Club Pick)
The Langoliers - by Stephen King (PC)
The Girls - by Lori Lansens (borrowed, not registered - October Book Club Pick)
Fidelity - by Michael Redhill (PC)
Artemis Fowl: The Eternity Code
- by Eoin Colfer (reserved for RBW)
Fortune's Daughter
- by Alice Hoffman (PC)
The Mysterious Mr. Quin
- by Agatha Christie
The Mermaid Chair
- by Sue Monk Kidd
Reading Lolita in Tehran - by Azar Nafisi (Library Book - August Book Club Pick)
Love
- by Toni Morrison (PC)
The Nettle Spinner - by Kathryn Kuitenbrouwer (borrowed, not registered - June Book Club pick)
Velocity
- by Dean Koontz (PC)
My Sister's Keeper
- by Jodi Picoult (PC - April Book Club Pick)
The Dark Tower VII: The Dark Tower - by Stephen King (borrowed, not registered)
Animal Dreams
- by Barbara Kingsolver (Feb./March Book Club Pick)
Cause Celeb
- by Helen Fielding (PC)
Life Expectancy
- by Dean Koontz (PC)
A Complicated Kindness
- by Miriam Toews (PC)
I Am Madame X
- by Gioia Diliberto
My Wish List
Incoming bookrings/rays
www.bookcrossing.com/---/857778
target="blank">The Language Police - by Diane Ravitch (elizz273)
www.bookcrossing.com/---/1292137
target="blank">Recife and Olinda, Brazil - photo book (chivers)