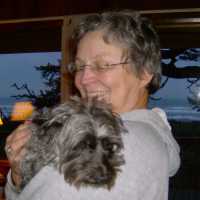 JoS100
Age 76
Joined Saturday, November 29, 2003
Recent Book Activity
| Statistics | 4 weeks | all time |
| --- | --- | --- |
| books registered | 0 | 152 |
| released in the wild | 0 | 69 |
| controlled releases | 0 | 3 |
| releases caught | 0 | 6 |
| controlled releases caught | 0 | 0 |
| books found | 0 | 9 |
| tell-a-friend referrals | 0 | 3 |
| new member referrals | 0 | 3 |
| forum posts | 0 | 23 |
Extended Profile
Hi -- did you find one of my books? Or Forum postings? Glad to meet you. I'm a reader and a sailor. I own a 40 foot wooden sailboat. I live in Olympia, Washington. I wish I lived in Port Townsend. Oh yeah, and the picture is me and my little dog Abiyoyo.

What the status codes mean on my bookshelf:

Books marked "available" are just that -- I'll trade, or if you don't have anything on your bookshelf I want, I'll let you know and we can see if we can figure out how to get the book to you for postage.

Pemanent collection means I'm not ready to part with the book yet. If you see books in my permanent collection that you'd like to read, please ask -- I'm willing to loan them out as long as I'm sure I'll get them back.

TBR means to be read. When I'm done, I'll journal the book and change its status.

Traveling means I've released the book -- to the wild, to a friend, to another BCer. If you are the recipient, please make a journal entry and change the status (you can remain anonymous if you wish) so I know the book has found a home.

Reserved means -- oh, any number of things -- I'm almost ready to part with the book; I can't find the darned thing; somebody asked for it but I haven't gotten it to him or her yet; I have someone in mind I want to give it to.