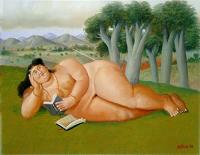 Haugtussa
Age 53
Joined Sunday, May 27, 2007
Recent Book Activity
| Statistics | 4 weeks | all time |
| --- | --- | --- |
| books registered | 0 | 1,527 |
| released in the wild | 0 | 1,505 |
| controlled releases | 0 | 350 |
| releases caught | 0 | 323 |
| controlled releases caught | 0 | 334 |
| books found | 0 | 510 |
| tell-a-friend referrals | 0 | 93 |
| new member referrals | 0 | 53 |
| forum posts | 0 | 3,853 |
Extended Profile

Every book, every volume you see here, has a soul.
The soul of the person who wrote it and of those who read it and
lived and dreamed with it. Every time a book changes hands,
every time someone runs his eyes down it's pages, its spririt grows and strengthens.
Carlos Ruiz Zafón

"In the beginning I was just giving books away. I got a new book, I gave away an old one. I always keep just seven. But then I began to find that others were leaving books where I had left mine and I thought, these are for me. So now I replenish my library with the random gifts of unknown strangers and I never know what I will read next."
Salman Rushdie
I read - therefore I bookcross!


Books I've read in 2020
"A book lying idle on a shelf is wasted ammunition. Like money, books must be kept in constant circulation. Lend and borrow to the maximum."
Henry Miller
---

Hi, my name is Haugtussa and I'm a book addict!
As a lot of other people here I can not remember a life without books. One of my first book memories is of scarying myself so much that I wasn't able to sleep - after reading Carolyn Keene's books about Nancy Drew! When it comes to reading my 95 year-old grandmother is my hero, and I'd like to quote her: "I don't do any housework anymore, there are too many books to read before I die!" (She said this ten years ago, and still lives by it).
I read pretty much anything, although I'm not particularly fond of Sci-Fi/Fantasy or Romance. My bookshelf does not really reflect my reading taste as I register a lot of books just to wild release them.

I am also the mother of three wonderful children (4, 7 & 10) and I am a full-time teacher. I'm married to another reader, but our tastes differ quite a lot. He tends to read all the thrillers I register for wild releasing!

Two of my favourite JE's. This one is in Norwegian and this one is in English.


---
My Birthday RABCK buddy is ukcanaus






---

Books I've read in 2019

Books I've read in 2018

Books I've read in 2017

Books I've read in 2016

Books I've read in 2014

Books I've read in 2013

Books I've read in 2012

Books I've read in 2010

Books I've read in 2009