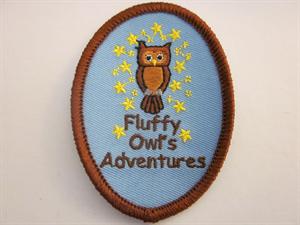 Fluffy-Owl
Joined Sunday, March 20, 2005
Recent Book Activity
| Statistics | 4 weeks | all time |
| --- | --- | --- |
| books registered | 0 | 337 |
| released in the wild | 0 | 248 |
| controlled releases | 0 | 100 |
| releases caught | 0 | 66 |
| controlled releases caught | 0 | 83 |
| books found | 0 | 110 |
| tell-a-friend referrals | 0 | 0 |
| new member referrals | 0 | 8 |
| forum posts | 0 | 117 |
Extended Profile
I'm a postdoctoral researcher at a leading UK University and also qualified to teach English as a foreign language; I was inspired by my gap year during which I spent six and a half months in South Africa, an experience I absolutely adored. I was teaching at a school which had a library with an eclectic range of books, so I read a lot of the 'classics' as well as some African literature which I thoroughly enjoyed. A few years ago I spent four months travelling around Central and South America, so my choice of books was limited to what I could find in book exchanges: sometimes I found some great books, sometimes some not-so-great books, but it definitely widened my reading selection a bit.
My favourite book of all time has to be Vikram Seth's
A Suitable Boy
, such a fabulous book set in India around the time of Independence. I tend to read a 'classic' followed by a more contemporary book and I usually stick to genres I like, although I do occasionally choose something completely at random and either end up loving it or hating it.
I'm willing to post any of my books marked as 'available', including internationally, if funds allow at the time.
I've sent books to:
England, Scotland, Finland, France, Germany, Greece, Iceland, Iran, Ireland, Israel, Italy, The Netherlands, Portugal, Serbia, Slovenia, Switzerland, Australia, Brazil, Canada, New Zealand, Singapore, Alabama, Arizona, California, Louisiana, Massachusetts, New York State, Texas, Virginia, Washington State.
I've released books in:
Austria, Argentina, Canada, Chile, Ecuador, England, France, Italy (Sardegna), Northern Ireland, Mexico, Peru, Slovenia, Uruguay, Arizona, California, New York, Nevada.
How long will it take me to post a book to/release a book in every country?!
Favourite wild releases:
*Releasing
Fear and Loathing in Las Vegas
by Hunter S. Thompson in New York, New York hotel in Las Vegas, Nevada.
*Releasing
Fictions
by the Argentine Jorge Luis Borges in Buenos Aires, Argentina, close to his childhood home.
Highlights of 2014:
The Storyteller
by Jodi Picoult
Double Fault
by Lionel Schriver
The Snow Child
by Eowyn Ivey
The Queen's Fool
by Philippa Gregory
Highlights of 2013:
A re-read of the
Malory Towers
series of books by Enid Blyton
The Brave
by Nicholas Evans
Highlights of 2012:
The Little Stranger
by Sarah Waters
Princess of the School
by Angela Brazil
Carry On, Jeeves
by P.G. Wodehouse
Winter of the World
by Ken Follett
Notes From an Exhibition
by Patrick Gale
Highlights of 2011:
Shantaram
by Gregory David Roberts
The White Tiger
by Aravind Adiga
How To Be a Woman
by Caitlin Moran
One Day
by David Nicholls
Highlights of 2010:
The Girl Who Played with Fire by Steig Larsson

The Book Thief by Marcus Zusak

Tipping the Velvet by Sarah Waters
Oooh What a Lovely Pair! by Ant and Dec
The Girl Who Kicked the Hornet's Nest by Steig Larsson

www.bookcrossing.com/---/8337582"
Suite Francaise
by Irene Nemirovsky
www.bookcrossing.com/---/8333699"
All Quite on the Western Front
by Erich Maria Remarque
www.bookcrossing.com/---/7341194"
Don't Move
by Margaret Mazzantini
The Slap
Highlight of 2009:
World Without End by Ken Follett
*Artemis Fowl and the Time Paradox by Eoin Colfer, absolutely brilliant!
*The 19th Wife by David Ebershoff, very very good.

My Sister's Keeper by Jodi Picoult
*Purple Hibiscus by Chimamanda Ngozi Adichie, absolutely brilliant.

We're Not All Like That by Jeanne Goosen

I Know Why the Caged Bird Sings by Maya Angelou
Girl With a Dragon Tattoo by Steig Larsson
The Cellist of Sarajevo

Highlights of 2008:


Maps for Lost Lovers by Nadeem Aslam

A Thousand Splendid Suns by Khaled Hosseini
*Netural Buoyancy by Tim Escott
*Miss Pettigrew Lives For a Day by Winifred Watson
*Eclipse of the Sun by Phil Whitaker

Fried Green Tomatoes at the Whistle Stop Cafe by Fannie Flagg
*An Utterly Impartial History of Britain: or 2000 years of upperclass idiots in charge by John O'Farrel
*Half of a Yellow Sun by Chimamanda Ngozi Achibie

Highlights of 2007:

*The Hotel new Hampshire and Until I Find You, both by John Irving
*Oryx and Crake and The Robber Bride, both by Margaret Atwood
*Snow Falling on Cedars by David Guterson
*We Need to Talk About Kevin by Lionel Schriver
*Anna Karenina by Leo Tolstoy

Highlights of 2006:

*The Line of Beauty by Alan Hollinghurst
*Cat's Eye, Alias Grace and The Handmaid's Tale all by Margaret Atwood
*The Queen's Fool by Philippa Gregory
*Noughts and Crosses by Malorie Blackman
*Portrait in Sepia by Isabel Allende

Highlights of 2005:

*Africa by John Reader
*The Shadow of the Wind by Carlos Ruiz Zafon
*Stones from the River by Ursula Hegi
*The Other Boleyn Girl by Philippa Gregory
*The No.1 Ladies' Detective Agency series by Alexander McCall Smith
*The Artemis Fowl books by Eoin Colfer