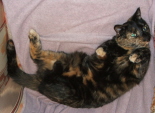 DrSlump612
Age 75
Joined Thursday, August 4, 2005
Recent Book Activity
| Statistics | 4 weeks | all time |
| --- | --- | --- |
| books registered | 0 | 9,018 |
| released in the wild | 0 | 6,688 |
| controlled releases | 0 | 122 |
| releases caught | 0 | 710 |
| controlled releases caught | 0 | 78 |
| books found | 0 | 304 |
| tell-a-friend referrals | 0 | 45 |
| new member referrals | 0 | 42 |
| forum posts | 0 | 1,260 |
Extended Profile
The picture: Guinness has captured the reading chair.
Most of the books on my bookshelf were acquired to release, so they don't
necessarily reflect my tastes.
I manage an OBCZ at Groundswell (formerly Bean Factory) at 1342 Thomas Ave.
in St. Paul, MN and am usually there on Sunday around noon to release and tidy the shelves.
I also release quite a few books at local OBCZs at Second Moon Cafe in
Minneapolis and Ring Mountain Creamery Cafe in Eagan.
Due to the huge increase in overseas postage from the US, I don't generally
do foreign trades or RABCKs. I will make exceptions but it's usually
cheaper to buy the book locally.
I do a lot of RABCKs, sending books to OBCZ's etc. so my catch statistics are
inflated. Actual wild catches as of June 16, 2006: 62.
- Who is Dr. Slump? He's the eponymous hero of a Japanese manga (cartoon) by
Akira Toriyama.
img265.imageshack.us/---/senbeedd9.gif" border="0" alt="Dr. Slump">

- Links to my wild releases that have been caught