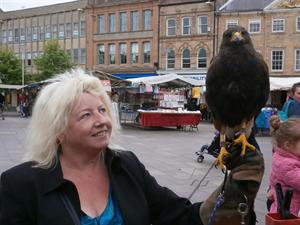 DianeO
Age 58
Joined Sunday, October 19, 2003
Recent Book Activity
| Statistics | 4 weeks | all time |
| --- | --- | --- |
| books registered | 0 | 435 |
| released in the wild | 0 | 359 |
| controlled releases | 0 | 3 |
| releases caught | 0 | 281 |
| controlled releases caught | 0 | 3 |
| books found | 0 | 114 |
| tell-a-friend referrals | 0 | 44 |
| new member referrals | 0 | 2 |
| forum posts | 0 | 39 |
Extended Profile


Once upon a time, many years ago, I was an active, enthusiastic member here (from 2003 to 2008), particularly loved participating in rings and rays. Unfortunately, due to a change in personal circumstances, everything changed... I am now in a better place, recently retired and looking forward to joining in all the fun of Bookcrossing - I feel like a newbie lol (April 2017) !
Greetings from the heart of the English countryside!
I love reading of course, I tell you, it's like a library here, books wherever you look: our room, in the dining room and lounge!
I'm 52 years old and travelling is my second passion. Have visited Amsterdam, Dublin, Cork, numerous Greek islands, Lisbon, Valencia, Madrid, Florida, Paris, Bergamot, Palma, Tunisia, Tobago and Cyprus.
Anybody looking for a penpal, feel free to contact me!







Name: Diane O'Connell
Age: 52
Birthday: September 18th 1964
Other than reading, I collect postcards, notecards, love beauty products, cooking, wine, paper crafts and looking after my gorgeous 3 year old grandson!
Favourite Author: Edgar Allan Poe
Favourite Poem: The Raven







Currently reading: The Luxe by Anna Godbersen
Reading next: Life of Pi by Yann Martel

My Wish List



Thanks for looking at my bookshelf!