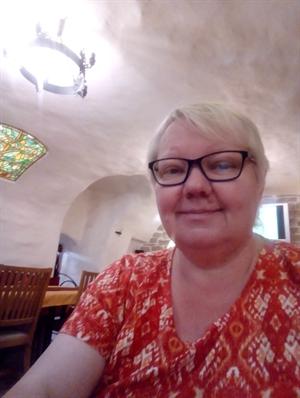 Chania
Age 56
Joined Sunday, September 17, 2006
Recent Book Activity
| Statistics | 4 weeks | all time |
| --- | --- | --- |
| books registered | 1 | 1,621 |
| released in the wild | 5 | 991 |
| controlled releases | 3 | 635 |
| releases caught | 2 | 292 |
| controlled releases caught | 6 | 570 |
| books found | 2 | 1,305 |
| tell-a-friend referrals | 0 | 77 |
| new member referrals | 0 | 4 |
| forum posts | 11 | 6,624 |
Extended Profile

Hi!
I am middle-aged psychiatric nurse, married, and two grown-up kids already away from home, a grandmother to a girl born 5/21 ... and I love books!

I love cozy mysteries, travel stories and books about food (especially food-related memoirs and such) and modern writers like Anne Tyler, Paul Auster, Julia Glass etc, but I also love a good classic!
I read both in Finnish and English.
If you look at my BC-bookshelves, they don't tell you the whole truth, I have plenty of books that are not registered in BC. Like books from my favourite authors, that I like to keep.

Most of the books in my wishlist are in English, but I would be as happy to get the same book in Finnish :) I update my wishlist very often.

I am trying to declutter my house, so it is pretty hard to think about other wishes, but here's some:
* my biggest wish is wishlist-book, and also books about food (especially food-related memoirs, not so much cookbooks as such) I read both in Finnish and English.
* CHOCOLATE , especially unusual taste or chocolates with filling (rather than plain) like chocolate with pineapple or Irish cream truffle or Fry's Turkish Delight! And I like more milk chocolate than dark, but anything is good!
* I love the combination of sweet and savory, like chocolate covered prezels or something like that.
* I also love to try new food, cookies, drinks, spices etc. I love stuff with wasabi, watermelon or ginger! And hot chocolate!
* Notebooks, nice good pens and pencils, decorative tapes, bujo stickers. I have a bit sarcastic, dark sense of humor, so stickers suitable for it are great!
* woollen or cotton socks, size 40 / 6 uk/8,5 us
* bookplates in English or Finnish
* candles, scented or not, doesn't matter!
* I don't usually wear make-up, but I love nail-polishes!
* wings for a month, if I've been without for a while
* a magazine in English (can be used) about cooking, decorating, generally women/home-kind of themes. Not gossip-, music-,movies- or fashion (they are not my cup of tea).
* I love to do 1000-piece jigsaw puzzles too!
* Anywhere Travel Guide: 75 Cards for Discovering the Unexpected, Wherever Your Journey Leads (can be used!)

* Recycled and second-hand items are defenitively big YES!


-----------------------------------------------

" Book A Day Keeps Housework Away! "
----------------------------------------------------

BOOKS I'VE READ 2023

JANUARY:
1. Here I Am / Jonathan Safran Foer
2. Death of a Sunday Writer / Eric Wright
3. Paperijoutsen / Anna-Kaisa Linna-Aho
4. Unien järvi / Kim Edwards
5. Knit One, Kill Two / Maggie Sefton
6. Frugal Living - When Less Means More / Fhilcar Faunillan
7. Where Old Bones Lie / Ann Granger
8. Lumen uhrit / Viveca Sten
9. Pillerinpyörittäjä / Katariina Souri
10. Seitsemän talvista päivää / Maeve Binchy
11. Bookcrossing Through Middle Earth / Skyring

FEBRUARY:
12. Ruska / Christian Rönnbacka
13. The Importance of Being Ernestine / Dorothy Cannell
14. Transient Desires / Donna Leon
15. Hope Nicely's Lessons for Life / Caroline Day
16. Pahanneuvon vuori / Amos Oz
17. The Winter Guest / Pam Jenoff
18. Joustava mieli /Arto Pietikäinen

MARCH:
19. Putoamistemppu / Craig Ferguson
20. Did You See Melody? / Sophie Hannah
21. Cutwork / Monica Ferris
22. Crewel Yule / Monica Ferris
23.