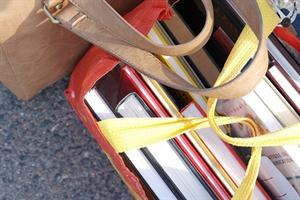 Ametisti
Age 16
Joined Friday, September 9, 2005
Recent Book Activity
| Statistics | 4 weeks | all time |
| --- | --- | --- |
| books registered | 0 | 1,358 |
| released in the wild | 0 | 1,293 |
| controlled releases | 1 | 333 |
| releases caught | 0 | 235 |
| controlled releases caught | 0 | 129 |
| books found | 0 | 206 |
| tell-a-friend referrals | 0 | 69 |
| new member referrals | 0 | 10 |
| forum posts | 4 | 1,690 |
Extended Profile
(Profile updated January 2022)
I have released most of my home library via bookcrossing and have had quiet BC-years lately. In 2022, I am participating in the following events:
St Valentines Exchange 2022
TBR-mountain challenge for 2022, Finnish forum
The Finnish bookcrossers are happy to host the 2023 Bookcrossing Convention in Tampere, Finland! Welcome!
Should you wish to send me a HGG or RABCK book, kindly see my wish list. I enjoy so much reading about adventures at sea, of old and new battles or treasure hunts.
I like strong black chai tea and wear wool socks around the year (EUR size 39). Please do not send chocolate; instead I'd love to try some of your locally produced honey in my tea. I am always delighted to get a new bookmark in my collection.
I read a lot as a kid. My parents took me to the library regularly and would always buy me books as presents. As my bookshelf is quite minimal (and I intend to keep it as such), I have only the top favorite childhood books left. My top three are: Wind in the willows, 101 dalmatians, and Uncle Fedja, his dog and his cat. I was never a huge fan of Winnie the Pooh or Moomins. I learned how to read from Aku Ankka and Nakke Nakuttaja comics like so many kids in Finland in the 1960s :)
Free Little Library
is a fascinating concept! If you have one near you, I'd be delighted if you would help me in releasing a book there (I would send you the book and you'd put it in the LFL in question). I'd love to be able to release books like this all around the world! Many thanks in advance!
---
* Released in the wild 1293 books (Jan 2022) - 7 more to go to get to 1300! Yay!
* Registered 1358 books (Jan 2022)
---
FI tarroja
EN tarroja
Antikka.net
Raffle King
kotitalousvinkit
kotikonstit flunssanhoitoon
BC-helppiä
vaihtohyllyt-lista
Authors born in
1967
Jhumpa Lahiri
Jasper Fforden 7 kirjaa
Thursday Next kirjat