I Am the Messenger
1 journaler for this copy...

This is a place of mystery...a sanctuary. Every book, every volume you see here has a soul. The soul of the person who wrote it and of those who read it and lived and dreamed with it. Every time a book changes hands, every time someone runs his eyes down its pages, its spirit grows and strengthens.





Carlos Ruiz Zafon, The Shadow of the Wind



Dear Reader

Welcome to BookCrossing, especially if it is your first time here. I am really pleased that you found this book. It is a gift from me to you. If you wish you may hold on to it, but I hope that you will pass it on, either to a friend or loved one, or by leaving it to be found again. That way our book will be on an adventurous journey which we can follow as it gets passed along.

In the meantime, did you read the book? What did you think of it? Also, what do you think of the idea of BookCrossing? Feel free to write any thoughts when you come back to make a journal entry for this book.

While you are here, why not take a look around our website? It is completely free to register, it is safe and spam free and, if you do join, you will receive email alerts when this book is found again. I would be delighted if you wish to mention me, shelj7k, as the member who introduced you.



Happy Reading!



---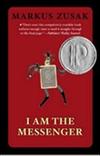 From amazon.co.uk
protect the diamonds
survive the clubs
dig deep through the spades
feel the hearts

Ed Kennedy is an underage cabdriver without much of a future. He's pathetic at playing cards, hopelessly in love with his best friend, Audrey, and utterly devoted to his coffee-drinking dog, the Doorman. His life is one of peaceful routine and incompetence until he inadvertently stops a bank robbery.

That's when the first ace arrives in the mail.

That's when Ed becomes the messenger.

Chosen to care, he makes his way through town helping and hurting (when necessary) until only one question remains: Who's behind Ed's mission?
~*~*~*~*~*~
Wonderful! I just love the idea behind this story. Keeping it for my sons.
The cover art is different to the above, but I cannot find mine in the options. Mine is the same as the JE pic here.
---