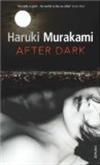 After Dark
Registered by
lukutuoli
of
Tampere
,
Pirkanmaa / Birkaland
Finland on 4/17/2010
This book is in a Controlled Release!
5 journalers for this copy...
Journal Entry
1
by
lukutuoli
from
Tampere
,
Pirkanmaa / Birkaland
Finland on Saturday, April 17, 2010
From the back cover:

"The midnight hour approaches in an almost empty all-night diner. Mari sips her coffee and glances up from a book as a young man, a musician, intrudes on her solitude. Both have missed the last train home.

Later, Mari is interrupted again by a girl from the Alphaville Hotel; a Chinese prostitute has been hurt by a client, and she needs Mari's help.

Meanwhile Mari's beautiful sister Eri sleeps a deep, heavy sleep that is 'too perfect, too pure' to be normal; she has lain asleep for two months. But tonight as the digital clock displays 00:00, a hint of life flickers across the TV screen, though the television's plug has been pulled out.

Strange nocturnal happenings, or a trick of the night? "
---
I really liked Murakami's surreal world again! This was easier story to follow than some other texts by Murakami, but the story was really captivating and the characters were interesting. I simply couldn't put the book down...

I have a special plan for this book, it will take a long flight soon :)

#84 for Reduce Mount TBR 2011 Challenge by Dove-i-Libri
---
Journal Entry
3
by
lukutuoli
at
Wishlist Tag Game, A RABCK -- Controlled Releases on Saturday, June 18, 2011
Released 10 yrs ago (6/20/2011 UTC) at Wishlist Tag Game, A RABCK -- Controlled Releases
CONTROLLED RELEASE NOTES:
This book is part of the Wishlist-tag-game, I hope you'll like it as much as I did! Regards from Tampere, Finland!



---
Journal Entry
4
by
megami-no-ushi
at
Calgary, Alberta Canada on Tuesday, July 12, 2011
It arrived so fast - thank you so much for tagging me with this book!!

ETA: another compelling work from murakami with intertwining plot lines. I really enjoyed the clock graphics that accompanied each chapter - it perfectly set the scene and helped create the mood without feeling like a crime procedural or a thriller.
---
Journal Entry
5
by
megami-no-ushi
at
Calgary, Alberta Canada on Sunday, January 15, 2012
Will take to the post office after church to begin its journey to Australia. Dancesports has won this book in the raffle ending the asian first page VBB. Thanks for your patience during a busy time IRL!

To the finder:
Calgary has an active group of BookCrossers that meet to swap books and discuss book crossing every second Saturday of the month at 11am at the Joshua Tree Cafe on Edmonton Trail. We always love to meet new crossers, so please join us any time you like!
---
Journal Entry
6
by
Dancesports
at
Petcheys Bay, Tasmania Australia on Tuesday, January 31, 2012
Thank you for sending me this book from the Asian first page VBB, I have read one or two others by Murakami and I am looking forward to reading this one, I have two on the go at the moment but I am near the end with both. Back to work tomorrow after a long holiday break - all of January, but I still hope to be able to start this one by the weekend. Thank you for the chocolate coins too. It would be great if I could one day come to a meet-up at the Joshua Tree, now I have another spot of my 'bucket' list.

Nb another book arrived today from Sweden posted on the same day as this one.
---
Journal Entry
7
by
Dancesports
at
Petcheys Bay, Tasmania Australia on Saturday, February 16, 2013
Well, it took me longer than I hoped to get to this book, but it was well worth the wait. I really enjoyed the way the story unfolded, I also liked the surreal nature of the book, the way the author slowly revealed more about each of the characters. It left me wanting more.

The book will be moving on soon.
---
I realt can't beileve my luck! (Or maybe we are talking skills here????) I've manager to pick a book by one of my favourite authors, and, it is a book I haven't read!
I love bookcrossing.

Thabks a lot for sending this book across the world.
---
I read this book in virually one sitting - I just had to sleep in between...
I love Murakami's work, and this one was interesting and (as previously stated) easy to read.
I liked the characters, particularly the women working at Alphavile. Mari also came to life in my imagination - and to add something which had nothing to do with the book, my daugther's friend Mari stayed slept over whilst I read the book.
I don't really know what to do with the book, I'll probably bring it to the meet-up we have on Friday, but it will not be wild released if no one wants the book. Time will show.
---
Journal Entry
10
by
Haugtussa
at
Sandnes Brygge in Sandnes, Rogaland fylke Norway on Friday, May 24, 2013
Released 8 yrs ago (5/24/2013 UTC) at Sandnes Brygge in Sandnes, Rogaland fylke Norway
WILD RELEASE NOTES:
I brought this to our meet up in Sandnes today.
The book is travelling on...
---
Got this book at a BC meeting in Sandnes, looking forward to start reading it this summer.
---
Delivered this to a friend in Worthing.
---