Farmer Johnson's Psycho Dairy Farm for Environmentally Aware Barnyard Animals
3 journalers for this copy...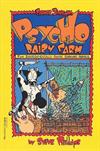 Bought today at St. Vincent de Paul thrift store for a quarter. TBR
From the front cover:
FARMER JOHNSON'S
PSYCHO DAIRY FARM
FOR ENVIRONMENTALLY AWARE BARNYARD ANIMALS
by STEVE PHILLIPS
From the back cover:
"I love this book! Wherever I go, it goes. But just once, I wish one of those cows had braids." -- Whoopi Goldberg
"Wonderfulll!" -- Bill Cosby
---

Read tonight during the bus ride home. A truly bizzare book - the humour is hard to describe, so I scanned a half dozen of my faves & uploaded them to this journal entry. A picture is worth a 1,000 words, right? :) Now Available
---
Mailed last Tuesday as a little extra in terrafreaky's package from my International RABCK Contest on BookObsessed... I figured if anyone had a twisted & goofy enough sense of humor to "get" this, it'd be her! ;) Enjoy!
---
Journal Entry
4
by
terrafreaky
from
Overland Park
,
Kansas
USA on Wednesday, July 29, 2009
This looks GREAT! Totally something that I will like! Great choice! Thank you!
---
Journal Entry
5
by
terrafreaky
from
Overland Park
,
Kansas
USA on Tuesday, August 4, 2009
This was fun! I think my favorite one was the invisible bull. :D
---
Journal Entry
6
by
terrafreaky
at
Latte Land (135th & Metcalf) in Overland Park, Kansas USA on Tuesday, August 25, 2009
Released 13 yrs ago (8/25/2009 UTC) at Latte Land (135th & Metcalf) in Overland Park, Kansas USA
WILD RELEASE NOTES:
WILD RELEASE NOTES:

Released as part of the 2009 Never Judge A Book By Its Cover challenge. (Wk 34 theme = male names in title)
---
I give 15 books away to the Latte Land and get some books for my enjoyment choice reading book. Thank you for Sugguest drop off book shelf by DragonGoddess.

Andrew
---