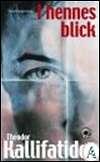 I hennes blick
Registered by
Deepswamp
of
Björkhagen
,
Stockholm
Sweden on 4/10/2008
5 journalers for this copy...
Journal Entry
1
by
Deepswamp
from
Björkhagen
,
Stockholm
Sweden on Thursday, April 10, 2008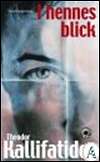 Har kriminalkommissarie Kristina Vendel tappat stinget? Inte alls. Hennes kompetens sviktar inte. Men kollegerna på Huddinge-polisens rotel 6 har börjat undra vart hennes smittande skratt tagit vägen och var den bekymrade blicken i de grågröna ögonen kommer ifrån.
Ett mycket delikat fall, som hon helst håller för sig själv, upptar hennes tankar. Brottsplatsen är nämligen hennes egen kropp. Och hon drömmer om hämnd.
Men nya och alarmerande inslag i den undre världens brottslighet i dagens svenska samhälle kräver hennes insatser. Flera mord begås och miljöer som Solvalla, en stripklubb, Grand Hotel, ett sommarstugeområde vid sjön Gömmaren och Konserthuset visar sig vara bitar i ett och samma pussel. Spåren som rotel 6 följer ser ut att tillhöra en kvinnlig seriemördare.
Samtidigt tar Kristina Vendels personliga liv en vändning som knappast förenklar utredningsarbetet.
---
# 11/11
"How to escape from a tunnel Fire"
---
En överraskning! Jag tycker mycket om Theodor Kallifatides, i synnerhet hans språk, men jag hade ingen aning om att han skriver/skrivit deckare.
---
En spännande och intressant bok.
---
Journal Entry
5
by
AnonymousFinder
at
Jönköping, Småland Sweden on Tuesday, May 17, 2011
I like Kalillifatides and have read some books of him.
---
Finns hos mig - sedan maj 2011!

Nu blir den en stråle:
- boktraven
- Haugtussa
---
---
Boka kom hit for noen dager siden. Nå skal den leses.
---
Nå skal boka leses, skrev jeg for tre og et halvt år siden! Nå er den i hvertfall lest, av både min mann og jeg.
Vanligvis leser jeg ikke krim, men denne her likte jeg. Kanskje fordi jeg fikk historien fra forskjellige vinkler, og ikke trengte å selv prøve å løse gåter. (Finner nemlig aldri ut hvem som er morderen...)
Skal på et BC treff neste uke, tar med boka dit.
---
Journal Entry
10
by
Haugtussa
at

Trondheim, Sør-Trøndelag fylke Norway on Wednesday, October 24, 2018

Released 3 yrs ago (10/24/2018 UTC) at Trondheim, Sør-Trøndelag fylke Norway

CONTROLLED RELEASE NOTES:

Velkommen til BookCrossing!


Takk for at du fant boka.
Vær vennlig å skriv en kommentar på www.bookcrossing.com, så får vi vite hva som har skjedd med boka.
Du kan være anonym om du vil eller enda kjekkere: bli medlem (det er gratis).
Om du leser boka så kan du skrive hva du synes om den.
Om du slipper den fri igjen så fortell gjerne om det også.
Om du blir medlem så kan du få email som forteller hva som skjer med boka i fremtiden - spennende!

Er det noe du lurer på så sende gjerne et PM (personal message) til meg, Haugtussa, og spør.
Lykke til som bokkrysser.
---
Denne boken kom fram på bordet under gårsdagens svært hyggelige Bookcrossing-treff på Mormors stuer i Trondheim. Jeg har ikke lest noe av denne forfatteren tidligere men plukket med meg boken da jeg gjerne nyter en god krim av og til.
Takk Haugtussa!
---