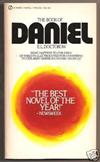 The Book of Daniel
Registered by
PJCommunityOBCZ
of
Panther Junction
,
Texas
USA on 2/21/2008
This Book is Currently in the Wild!
3 journalers for this copy...
An inhabitant of the Panther Junction Community Library, previously available only to residents and employees of Big Bend National Park in West Texas.
---
Journal Entry
2
by
tabby-cat-owner
from
Bellingham
,
Washington
USA on Friday, May 16, 2008
received in the mail from Moody-Blue of Big Bend National Park in West Texas. This book formerly belonged to the Panther Junction Community Library which was an OBCZ maintained by Moody-Blue. Moody-Blue is donating this book to the 1001-library.

The central figure of this novel is a young man whose parents were executed for conspiring to steal atomic secrets for Russia. His name is Daniel Isaacson, and as the story opens, his parents have been dead for many years. He has had a long time to adjust to their deaths. He has not adjusted. Out of the shambles of his childhood, he has constructed a new life—marriage to an adoring girl who gives him a son of his own, and a career in scholarship. It is a life that enrages him. In the silence of the library at Columbia University, where he is supposedly writing a Ph.D. dissertation, Daniel composes something quite different. It is a confession of his most intimate relationships—with his wife, his foster parents, and his kid sister Susan, whose own radicalism so reproaches him. It is a book of memories: riding a bus with his parents to the ill-fated Paul Robeson concert in Peekskill; watching the FBI take his father away; appearing with Susan at rallies protesting their parents' innocence; visiting his mother and father in the Death House. It is a book of investigation: transcribing Daniel's interviews with people who knew his parents, or who knew about them; and logging his strange researches and discoveries in the library stacks. It is a book of judgments of everyone involved in the case—lawyers, police, informers, friends, and the Isaacson family itself.

It is a book rich in characters, from elderly grand- mothers of immigrant culture, to covert radicals of the McCarthy era, to hippie marchers on the Pen-tagon. It is a book that spans the quarter-century of American life since World War II. It is a book about the nature of Left politics in this country—its sacrificial rites, its peculiar cruelties, its humility, its bitterness. It is a book about some of the beautiful and terrible feelings of childhood. It is about the nature of guilt and innocence, and about the relations of people to nations. It is The Book of Daniel. (overview copied from Amazon.com)

---
Journal Entry
3
by
tabby-cat-owner
from
Bellingham
,
Washington
USA on Monday, February 8, 2010
This book has been mailed to TracyW of London, England, UK.

I hope you enjoy this book, TracyW.
---
I've read this book now. I wonder why it was on the 1001 books list, I'm sure it was very impressive back in 1971, but the main thrust of the story, the innocence of the Rosenbergs (who are represented fictionally as the Isaacson, parents of Daniel) has nowadays been undercut by the release of Soviet files indicating that Julius was guilty of espionage, although Ethel still appears to have been wrongly executed.

Leaving that aside, the politics of E. L. Doctorow presents are very annoying for me to read. For a start, he adopts the habit of many on the American left of analysing international relations as if the USA is the only moral actor - if the US had done x instead of y, the Soviets would not have developed the bomb, so the US was responsible for the Soviets' development of a nuclear bomb and resulting civil war. Soviet decisions are only analysed in response to American ones, but not vice-versa as a full determinist would have. I suppose this outlook develops in opposition to those on the American right who see America as always right and any bad acts that the US did as being driven into it by the actions of others. As a non-American, but also someone not aligned with left-wing politics per se (though I agree with many positions that get labelled left-wing), I find both attitudes frustratingly limited. E. L. Doctorow also only presents one side of the story and does not consider that his political opponents may have arguments beyond mindless fear. For example, there is a long talk from some of the politically-connected characters about how incremental reform is useless and what is needed is mass overthrow of the system, but no discussion that the long-lasting improvements have come from incremental reform, eg the slow expansion of the "moral circle", the introduction in the Magna Carta of some protections against the Crown, the exhausted acceptance of religious differences amongst Protestants at least after the Restoration of Charles II, the movement to universal male suffrage and then to universal female suffrage. E.L Doctorow makes a strong case that the government was not setting about a fair trial in the case of the Rosenbergs, but he doesn't explore any alternative ideas about how to reduce those pressures, unlike the great jurists of English history such as Sir Edward Coke, or the drafters of the Magna Carta). Furthermore, Doctorow discusses different punishments for the nobility versus commoners (such as execution by beheading versus the more painful procedure of partial hanging followed by disembowlment and castration), as a matter of the leaders against the commoners, while to me a more compelling argument strikes me as the nobility negotiating better terms as protection against the Crown.

E. L. Doctorow also never engages with the economic arguments of Mises about the socialist calculation problem with a centrally-planned economy (I suspect he never heard of said argument). Nor does he engage with Hayek's arguments about how central planning leads to a loss of liberty. Of course Doctorow was writing before the atrocities of the Khmer Rogue, and before the famine of the Chinese Communists became general knowledge, but I would have expected him to have read Orwell's descriptions of Communist activities in the Spanish Civil War at least.

On another scale, Daniel's treatment of his wife Phyllis upset every feminist bone in my body. Yes, I know Daniel is presented as suffering from his parents' arrest, conviction and execution, but still for physical abuse to be taken in such a light makes the bile rise in my mouth. I was wishing for Phyllis to grow a backbone and leave him, or at least slap him back, and this doesn't happen.

Turning at last to the book as literature, the fractured paragraph and viewpoint changes (eg from Daniel to first-person), did strike me as well-done and appropriate to the material, though not unusual. Daniel's mistreatment of his wife made it hard for me to have much sympathy with him, and Susan I didn't feel well-connected to, but Paul & Rochelle Isaacson were compellingly created and as fictional characters who were victims of the government's politics I found their story heart-breaking.


---
Journal Entry
5
by
TracyW
at
-- Tube - Northern Line - Southbound in -- Trains, Tube, Buses --, Greater London United Kingdom on Friday, December 12, 2014
Released 6 yrs ago (12/12/2014 UTC) at -- Tube - Northern Line - Southbound in -- Trains, Tube, Buses --, Greater London United Kingdom
WILD RELEASE NOTES:
need some clear space on my bookshelf
---