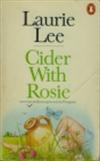 Cider with Rosie
3 journalers for this copy...

An account of the traditional village life which disappeared with developments such as the coming of the motor car, and also of the experience of childhood seen from many years later.
---


CONTROLLED RELEASE NOTES:
Sent as a RABCK to
AgdaAgulina
in the Czech Republic. This is also part of my challenge to send a book to
every country in the world
and the
Around The World Challenge 2009
.
---
Thank you very much JPix! I am really looking forward to have Cider with Rosie!
---
I have now enjoyed Cider with Rosie, sip by sip, chapter by chapter, over a longer period of time. For me it was a very nice way of reading this book, as it was not grippingly exciting but rather a tender read. I think I didn't catch all of its charm as I'm from quite a different country, and neither a native english reader, but it was interesting in any case.

Thanks a lot for the book! It is already now with its next reader.



---
This beautifully written prose poem looks back at the author's childhood with a vividness and colour that made my own childhood come back alive. It is nostalgic but so sweetly so; those of us who can identify even a bit with the simple country lifestyle he evokes will be transported and even enchanted by the lyrical imagery that fills these pages. The provincialism of rural English village life is shocking in its brutality and honesty, still one is somehow attracted to that description of close community that seems so rare these days, even with all its faults and failures. This is a point of view from a country boy turned big-city dweller in the technological age of hyper-connected physical disconnection.

All in all a beautiful read with delicately nuanced language; a portrait of a lost lifestyle and many of the aspects of that lifestyle we miss even more sorely 50 years after its first publication.

I hope to send this to another prospective fan... thanks.
---