Algeria's Way
Registered by
snufkin81
of
Cape Town
,
Western Cape
South Africa on 1/25/2007
This Book is Currently in the Wild!
4 journalers for this copy...

Algeria, tired and hurt after coming out of an emotionally abusive relationship, quits her job and leaves her home in Cape Town to make the ancient pilgrimage to Santiago de Compostela. On the way she meets a number of other travellers, all doing the Camino for different reasons, but all carrying secrets and hurts with them on the journey.
I enjoyed reading this. It's completely different to anything else I've ever read. I didn't get into it straight away, but the descriptions and feel of the book won me over.
This copy is signed by the author, who works at the same bookshop I work at, and who is a lovely, friendly person. I wish her well for her future writing endeavours.
I'm releasing this book to fulfil S in the
African Authors A-Z challenge
.
---
Arrived this week. Thanks so much snufkin81. I have been wanting to read this book as it sounds so amazing. Yay, now I can take it off my wish list. Looking forward to a good read.
---
I enjoyed this. It took me a while to get into it, and I found the tarot symbolism a bit at odds with the Christian pilgrimage. But I kept going and am glad I did. (And not just because I can now cross S off my list on the African fiction challenge.)

I have heard a few talks by people who have done the carmina walk and it sounds wonderful. The author captures it well. Some wonderful descriptions of places and people.

I have given the book to another bookcrosser who I think might enjoy it.
---
Algeria's way
I have heard about this book along the way and am glad to have had a chance to read it. For me, though, it seemed to be neither here not there. The story is set up as a 'defence' - the narrator will tell us what 'really' happened as set against a different account. The story is a pilgramage - Algeria goes on a journey across Spain with a group of other people. There are concerns of people's attraction to her, her own memories and relating to herself and others. Throughout there are the overheard conversations from her fellow travellers. It seemed to me to give neither a sense of landscape nor of the shifting inner journey of Algeria. Why Algeria would accept Miguel as an angel of love rather than a shifty adventurer opportunist is completely random and there seems to be little motivation from the story to explain Algeria's choices. In a way, the beginning and the end are more playful in tone than the journey of the main narration and it is difficult to find which distance is required, as if the text both invites you in and pushes you away.

---
Journal Entry
5
by
vuurhoutjie
at
Zebra Internet Café, High St in Grahamstown, Eastern Cape South Africa on Monday, October 27, 2008
Released 13 yrs ago (10/27/2008 UTC) at Zebra Internet Café, High St in Grahamstown, Eastern Cape South Africa
WILD RELEASE NOTES:
WILD RELEASE NOTES:

on the bookshelf
---
will comment once read. thank you! have always dreamt to do this pilgrimage - looking forward!
---
Journal Entry
7
by
OxfordPineapple
at
Höhbeck-Museum Vietze in Höhbeck, Niedersachsen Germany on Friday, January 14, 2022
Released 4 mos ago (1/23/2022 UTC) at Höhbeck-Museum Vietze in Höhbeck, Niedersachsen Germany
WILD RELEASE NOTES: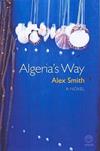 Who would have thought that this pretty blue book would have stayed with me for so long, silently observed me from the bookshelf whilst my various life stages and even endured the trip into my motherland. Time has passed indeed. I am releasing this messy, emotional account of a young woman who has such weird engagements with people and wishes and thoughts and glimpses of the opposite reality she's in that i can relate to this all. i read it twice to fully absorb the messy experiences she has during the tough walk. this is not so much about the pilgrimage but very much about a young woman who is struggling with various things and yet enjoys the hike despite. alex smith has a good eye for the little details, nothing kitsch, all very real, all very sad and stoic and messed up. thank you. i am in the middle of it myself.
---