Hurray! The Bookplate Creator is back!
We've been promising it for a long time, and now it's finally here... We have a brand new Bookplate creator. Read all about it in this Announcement forum post!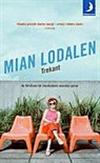 Trekant
3 journalers for this copy...
My lever sedan en tid i tvåsamhet med stora kärleken Bob, men sliter med hur hon ska förhindra LSD (den lesbiska sängdöden) som hotar förhållandet. Smulsystrarna satsar på vuxenliv. Hedda genom att försöka blir gravid och Mackan, inte lika lyckosamt, med suspekt pojkvän på fängelsedistans.
Bob och My får en okonventionell idé som kan förnya deras sexliv och lösningen uppenbarar sig när en tredje part oväntat dyker upp... Det är okej att vara med andra, bara man gör det tillsammans och så länge man kör med raka puckar. Hur ärlig måste man vara för att få en trekant att hålla? My är ute på djupt vatten. Igen.

Jag har läst Smulklubbens skandalösa systrar innan, och den var rolig. Jag tror att denna också kommer att vara rolig.
---
Väldigt lättläst och rolig, precis som jag förutspådde. Det som hände var rätt oväntat faktiskt. Jag ser fram emot en uppföljare om en sådan kommer!
Lodalen skriver väldigt humoristiskt, även i de mörkaste stunderna.

---
Reserverad för
harmaja
Boken skickades till Harmaja 9/10 - 2006
---
Jag fick Trekant igår. Tack så mycket, yogie! Det var snällt av dig att skicka boken till mig! Jag hinner inte läsa boken omedelbart, och möjligen någon annan vill läsa den innan mig. I alla fall ska den bli läst. :)
---
Jag fick boken (för en lång tid sedan...) och läste den omedelbart. Visst är boken lättläst och på något sätt rolig också. Jag tycker att My är så retsam och dåraktig att man inte vet om man borde skratta eller gråta - men bestämmer man sig för att skratta så blir ju allt ganska bra... Tack yogie och harmaja!
---