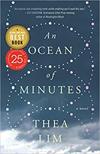 An Ocean of Minutes
Registered by
cestmoi
of
Hamilton
,
Ontario
Canada on 2/27/2023
2 journalers for this copy...
Jessibud brought this to the Toronto meetup last weekend but hadn't registered it and said I could do so.

This sounds right up my alley - I love time travel novels :) Thank you :)

From amazon.com:
America is in the grip of a deadly flu pandemic. When Frank catches the virus, his girlfriend Polly will do whatever it takes to save him, even if it means risking everything. She agrees to a radical plan—time travel has been invented in the future to thwart the virus. If she signs up for a one-way-trip into the future to work as a bonded laborer, the company will pay for the life-saving treatment Frank needs. Polly promises to meet Frank again in Galveston, Texas, where she will arrive in twelve years.

But when Polly is re-routed an extra five years into the future, Frank is nowhere to be found. Alone in a changed and divided America, with no status and no money, Polly must navigate a new life and find a way to locate Frank, to discover if he is alive, and if their love has endured.
---
This was a timely novel. It starts just a a pandemic is starting and spans a year for Polly and 18 years for Frank. She signs a contract to go to the future to avoid the pandemic and secure healthcare for Frank. They agree to meet but circumstances keep them apart.

When Polly arrives in 1998, America and the USA are two different countries with guards and border patrols. America is the land of bonded labour, appalling conditions and poverty. She faces discrimination, exploitation, unfair work practices and a life she never thought could be possible. She never stops searching for Frank.

When she gets out of her bond, with some help from another man, she sets out to find Frank in their home town of Buffalo.

She finds that's whats done can't be undone.
---
Journal Entry
3
by
cestmoi
at
Surprise via mail, A RABCK -- Controlled Releases on Wednesday, March 15, 2023
Released 2 mos ago (3/16/2023 UTC) at Surprise via mail, A RABCK -- Controlled Releases
CONTROLLED RELEASE NOTES:
This wasn't on your wish list but it sort of fits with the pandemic theme of The Pull of the Stars and I had some extra room in the box.

Enjoy or pass along :)
~~~~~~~~~~~~~~~~~~~~~~~~~~~~~~~~~~~~~~~~~~~~~~~~~~~~~~~~~~~

---
Journal Entry
4
by
lauraloo29
at
Edmonton, Alberta Canada on Monday, March 20, 2023
A most excellent surprise! EIGHT books arrived today. Thank you! This one does look interesting.
---