American Gods
3 journalers for this copy...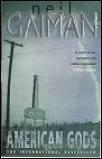 read this book!
i think anyone should read it. but maybe only if you have a remote interest in mythology. it's a road movie and it depicts gods from all over the world, leprechauns, anansi the spider et al posing as humans to get by, because no one believes in them anymore.
among many other things.
makes you think about what you believe in - not necessarily in the religious sense.
to be honest, my copy is not going to leave my house. but maybe i'll run into a second one and that one can then be released.
---
Nice surprise, nrrdgrrl! Looking forward to reading it. Loved our afternoon together!
---
Eindelijk, eindelijk dan uitgelezen. Dat het zo lang duurde LAG NIET AAN DIT PRACHTIGE BOEK. Ik had helemaal geen tijd om eens lekker een eind achterelkaar door te lezen, hier 10 minuten in bed, daar 20 in de trein. Het leven is af en toe een gedoe. Maar nu is het meegeweest naar Londen, 6 uur heen en 6 uur terug in de trein. Toen was het zo uit. Ik vond het prachtig en geweldig. Heb hier en daar wel wat minicommentaartjes maar die veranderen niets aan het eindoordeel: een van de aardigste boeken van de laatste jaren. Heel erg bedankt lieve nrrdgrrl! Ik neem het weer voor je mee op onze eerstvolgende VV-meeting.
---
Tja, toch weer met meer boeken naar huis dan verwacht. Naïef, maar ach.
This one comes highly recommended, goody.
---
Journal Entry
5
by
rem_HHX-328595
at
Amsterdam, Noord-Holland Netherlands on Sunday, August 4, 2013
gevangen in eigen kast.
wil je het boek terug, nrrdgrrl? hier wil het weg. hoor het wel. x
---