The Passion (Penguin fiction)
Registered by
YowlYY
on 4/1/2005
1 journaler for this copy...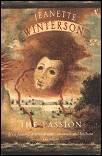 From www.barnesandnoble.com:
The Passion is a modern classic that confirms Jeanette Winterson's special claim on the novel. Set during the tumultuous years of the Napoleonic Wars, The Passion intertwines the destinies of two remarkable people: Henri, a simple French soldier, who follows Napoleon from glory to Russian ruin; and Villanelle, the red-haired, web-footed daughter of a Venetian boatman, whose husband has gambled away her heart. In Venice's compound of carnival, chance, and darkness, the pairi meet their singular destiny.
---
A lovely read. Ms Winterson can write beautifully, and this is proof.
---