Healing in the Hills (Harlequin)
2 journalers for this copy...
Part of a huge load of books given to me by a freecycler. It'll be available until I can get around to releasing it. This copy is missing the front cover.
---
In my original haste of registering this book, I only really noticed that the front cover was missing. I failed also to see that the pages were no longer able to hold themselves together. When I picked it back up with the purpose of releasing it into the wild, I sadly realized that this book is no longer fit for releasing or reading at all. :( I am therefore sending this book to book heaven by way of the BookCemetery. May you rest in peace little Harlequin.
---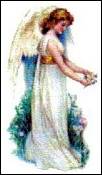 A sad day at the Book Cemetery when the remnants of a once proud publication arrived today (Wednesday 02 November 2005). Yet another victim of the dreaded "loosepageitis" (compounded by "sanscover") the poor sad Reading Companion was the recipient of a most moving Memorial Service held in the Chapel of the Last Resort. The congregation was moved to tears by the Choir's magnificent rendition of "Ave Maria" as the tiny casket was discreetly removed from the bier. All eyes looked heavenward as a whooshing sound signified the total destruction of our dear friend; a puff of white smoke was all that was to be seen. The ashes of were scattered among the trees surrounding the Pool of Rememberance, as a flock of 21 pure white doves were released from the roof of the Staff Meal Room. All facility flags were at half-mast.
The Chief Mourner was Adia415, who had to be supported to the Limousine following the obsequies and the presentation of our account. In a most unusual occurence Adia415 was the winner of this month's "Lucky Door Prize" which happened to be a 6 week old kitten. The Management and Staff extend sincere condolences on this sad occasion.
R.I.P.
---