The Dark Side of Genius: The Life of Alfred Hitchcock
2 journalers for this copy...
A good read if you like Hitchcock; goes beneath the surface to examine the source of his movies in his very odd psyche.
---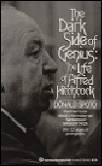 Paperback. Just received this book at my first Halifax BookCrossing meeting. Thanks, pyramus! Will put it at the top of my "To Read" stack so it can get back out there.
---
Passed this on to a friend who may get to it a lot quicker than I seem to be! Enjoy.
---