Zombies of the Gene Pool
Registered by
Jaguar
on 8/2/2004
5 journalers for this copy...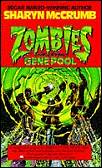 Plot synopsis:
In the 1950s, a group of young science fiction writers, dreaming of literary immortality and calling themselves the Lanthanides, buried a time capsule with their stories and relics from the time. Now, in the 1990s, when several of them have become famous, the surviving Lanthanides are getting together at a special convention to dig up the capsule and open it. But the convention is startled by the appearance of a writer who was supposed to have died thirty years ago. Then murder materializes to throw the agenda further into chaos. Now, Jay Omega, author of
Bimbos of the Death Sun
, and his significant other, Dr. Marion Farley, must separate science fact from fiction -- and unearth a killer with a story of his own to tell.
Book details:
Not the edition shown. Mine has that <-- wacky cover art.
What I thought:
While not quite as good as
Bimbos of the Death Sun
, this is quite fun. Recommended.
---

---

Release planned for
Friday, August 06, 2004
at
postal release
in mail, given to a fellow BCer Controlled Releases.
Sending to
GlitterLover
in a bookring.
---
Woohooo, looking forward to this one too. Great stuff.
Thanks very much
TTFN

---
I found this one slow going like the Bimbos of the Death Sun. I did enjoy it - if only because I like mysteries and had a penchant for comix a while back.
Thanks for sharing Jaguar.
Happy New Year
posting book to Katayoun now.
---
thanks it's here, thanks so much for the bookmark i really like your bookmarks, they are fun and glittery! thanks. will read this in a week i hope, am reading 2 other books and then it's this!
---
not as fun as Bimbos of the Death Sun, but still a nice read and also a pretty good ending. thanks jaguar and will be sending to labmomnm in a couple of days

p.s. though with this book my opnion of marion has gone WAY up, someone who rates black adder somewhere with sex and chocolates, has certainly got good taste :)
---
and the book is on it's way, should be there (ofcourse hopefully and touch wood!) in a month give or take a week. thanks jaguar and glitterlover.
---

Journal Entry
9
by
labmomnm
from
Albuquerque
,
New Mexico
USA on Friday, March 25, 2005
Arrived yesterday - pretty fast, Katayoun! I'll probably get to it quite quickly - absolutely MISERABLE week at work so a nice escape from reality is perfectly in order.

30 March '05 - Well, I agree with the previous journalers: this one wasn't as much fun as "Bimbos", but it was a good read. I had some trouble keeping all of the Lanthanides straight...too many characters to keep track of makes my head spin!

tomsmama asked to be skipped (she already found a copy of her very own)

2 April '05 - mailed to Alysoun64
---
Just received in the mail. Really looking forward to reading it. Will journal again when I have done so. Thanks for the opportunity!
---

---