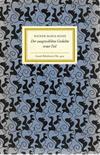 Der ausgewählten Gedichte anderer Teil
2 journalers for this copy...
Dieses Buch habe ich in einem Bürcher-Brocki gefunden. Es war als Geschenk für jemanden gedacht, aber leider konnte ich es nicht abgeben. Deshalb gebe ich es frei, um die Welt zu bereisen.
---
Eine Freundin kam auf einen Tee und einen kleinen Büchertausch vorbei und dieses Buch wanderte in ihre Tasche.

If you aren't familiar with Bookcrossing, take a few minutes to check out this very cool site. Bookcrossers LOVE books, and more than anything, they love to read books and then set them free for other people to find and enjoy. I would love it if you would leave a journal entry -- you can say where you found the book or how you liked it when you read it.
---
Received this beautiful little book of poetry from Mankyi in Zurich.
---