Seven Demons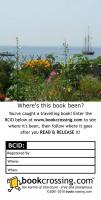 Registered by
GoryDetails
of
Nashua
,
New Hampshire
USA on 3/22/2023
This Book is Currently in the Wild!
1 journaler for this copy...
Journal Entry
1
by
GoryDetails
from
Nashua
,
New Hampshire
USA on Wednesday, March 22, 2023
I got this softcover from an online seller, for another release copy.
I originally read the book via the audiobook version (narrated delightfully by Christian Coulson). (I was intrigued to find that "Aidan Truhen" is a pseudonym of Nicholas Cornwell, aka Nick Harkaway, son of John le Carré!)
It's a follow-on to
The Price You Pay
, in which Jack Price became the de facto head of the "Seven Demons," a gang of international criminals with some very quirky, near-supervillain-level skills, and a moral compass that pretty much starts and ends with the contracts (with some allowance for personal loyalties if it doesn't mess up the job).
I have to admit that I don't know if I'd have enjoyed the book nearly as much if I'd read the text version first. The style is... unusual, and without Coulson's bravura performance to fully illustrate the various characters and the sometimes-deranged banter, it could have been hard to follow. (I do want to read the previous book now, to find out what really happened re the head-on-a-stick and the guy-in-the-box and the other incidents that are referenced here as a perfectly normal part of the Demons' life; it isn't available in audio yet, so if I read it I'll just have to imagine Coulson's voice.)
Here's the opening of the story, as a sample of the style:
"The first I knew it was all going wrong was when Evil Hansel came running out of a pastry shop and stabbed me in the leg, and that was really just the best thing that happened that day. If you do not get stabbed in the leg by a nine-year-old once every so often, then that is nice for you. Hi I'm Jack hi and this story is about me and I am the kind of person who has enemies who know nine-year-olds who will run out of a pastry shop and stab you in the leg, not because they think it is a game but because they are commercially minded fucking psychopaths and that is the world."
And farther in, when one of his gambits is in peril thanks to a slow-on-the-uptake acquaintance and Jack gets murderous about it, he muses:
"That is actually the danger with being a Demon is that every problem starts to look like the kind of problem where that is the best answer. Leaking faucet? Kill the plumber. Traffic on I-9? Kill the other drivers. Like that guy's car? Easy he won't need it. Network cancels your favorite show? Well sure how many of them gotta go before the rest get the fucking message that the world needs more Dichen Lachman not less.
"Quite a few actually, as it happens, which surprised me, but never mind that right now."
Jack and company, including Doc (his "not-girlfriend and a global science felon"), Volodya (whom they all suspect of having made ham from human bodies), Rex ("who is largely focused on exploding things"), Charlie (a digital artist who as "only ever murdered one person but really seems down with the whole lifestyle"), and Lucille (a large guy "wearing a suit made of sharp edges" with which he hugs people to death), are in between contracts and (relatively) eager to find something to do. But when they're hired to take on the most impregnable bank vault in the world, built into a mountaintop in Switzerland, it kicks off a new adventure with increasingly dangerous foes on every hand - and much hilarity, if often of the gruesome, gore-spattered kind. (Jack's stint as a globally-famous artist of ambiguity named Banjo Telemark is especially tasty, but it's all tremendous fun. With violence.)
Given the over-the-topness of it all, I was surprised to find how fond I got of this very eclectic gang by the end of the book. Recommended - if you have a tolerance for dark-comedy/comedic-violence/comedic-sociopathy... um, well, you get the idea!
---
Journal Entry
2
by
GoryDetails
at
Little Free Library, Starknaught Hts in Gloucester, Massachusetts USA on Friday, March 31, 2023
Released 2 mos ago (3/31/2023 UTC) at Little Free Library, Starknaught Hts in Gloucester, Massachusetts USA
WILD RELEASE NOTES:

I left this book and its prequel in this new-to-me Little Free Library; hope someone enjoys it!
[See other recent releases in MA
here
.]
** Released for the
2023 Oh, the Places We Can Go
challenge, for New York's Lake Demons. **
---