Hurray! The Bookplate Creator is back!
We've been promising it for a long time, and now it's finally here... We have a brand new Bookplate creator. Read all about it in this Announcement forum post!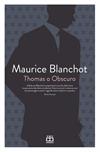 Thomas o Obscuro
2 journalers for this copy...
«Obra maior da literatura francesa do século XX, «Thomas o Obscuro» é um cruzamento entre filosofia e literatura, bem como um dos livros mais desafiadores da modernidade.
Em francês, como em português, existe uma vírgula a separar o nome do atributo como é o caso, por exemplo, de Alexandre, o Grande. Blanchot, escritor e intelectual admirado por alguns dos maiores escritores e filósofos do seu tempo e dos nossos dias, não colocou uma vírgula no título da sua obra.

Publicado em 1941, Thomas o Obscuro foi reescrito e republicado em 1950. Para o Autor ambas as versões eram válidas, embora a mais tardia (aquela que se seguiu nesta tradução de Manuel de Freitas) se tenha tornado a versão canónica.

Thomas é a personificação do conceito de neutro que Blanchot explorou na sua literatura. Diz-nos Thomas: «Eu penso, logo não sou.» Thomas não tem personalidade, é um ser neutro, uma humanidade desconstruída em peças soltas, e, como tal, uma análise única do ser humano e simultaneamente do ser literário.

A propósito do título, alguns dizem que se trata de uma referência ao filósofo pré-socrático Heráclito, dito «o obscuro», devido às sentenças oraculares da obra Sobre a Natureza, que lhe foi atribuída por Diógenes Laércio. Porém, há quem veja também neste livro de Blanchot uma alusão ao romance de Thomas Hardy Jude the obscure, enquanto outros ainda dizem que estas pistas são lançadas apenas para deixar o leitor-intérprete às escuras...»
---
Journal Entry
2
by
projadamastor
at
Belém in Lisboa, Lisboa (cidade) Portugal on Tuesday, October 4, 2022
Biblioteca de Belém, junto à entrada.
---
Encontrado na biblioteca municipal, Belém.
---