Hurray! The Bookplate Creator is back!
We've been promising it for a long time, and now it's finally here... We have a brand new Bookplate creator. Read all about it in this Announcement forum post!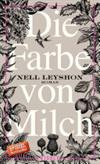 Die Farbe von Milch
1 journaler for this copy...
Das Buch wurde im Zuge einer Bookcrossing-Aktion am Weltalphabetisierungstag 2022 in Salzburg freigelassen!
---