Mirabile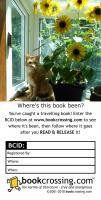 Registered by
GoryDetails
of
Nashua
,
New Hampshire
USA on 8/12/2022
This Book is Currently in the Wild!
2 journalers for this copy...
Journal Entry
1
by
GoryDetails
from
Nashua
,
New Hampshire
USA on Friday, August 12, 2022
I got this paperback from a local thrift shop. (Had to tape its front cover back on, but otherwise it's in good shape.) It's a linked short-story cycle set on a remote planet where a small population descended from Earthlings are attempting to incorporate Earth-genetic creatures into the local ecosystem - with lots of unexpected side effects. The protagonist is a woman in what sounds like late middle-age, who is devoted to monitoring and tweaking (where necessary) the new organisms that develop - and to mentoring the next generation, most of whom seem to adore her. So far it's surprisingly good fun, not least because after a lifetime of ardent SF fandom I don't think I've encountered Kagan's work before...
Later: I thoroughly enjoyed this one! It has a lot of the "sentient beings using technology for good" aspects of James White's "
Sector General
" books, and also reminded me a bit of Becky Chambers'
Record of a Spaceborn Few
. It has elements such as cheerfully-past-middle-age folk still doing their work and finding romance, bickerings among different communities based in part on their specific ecological niches and in part on cultural baggage from Earth, and some truly delightful mutations; tweaking Earth sheep to be able to eat the local vegetation resulted in sheep with rich blue wool, and an apparently freakish mutation in Earth-kangaroos at first presented as scary-sounding "kangaroo rex" and then - well, I won't spoil it, but there's an on-world community of Australian descent that was delighted to find out what those carnivorous marsupials were becoming.
Each of the stories - which are presented as being told to an extended-family group as evening entertainment, with some of the kids chiming in regarding the stories they were present for - expand a bit on the origins of the community, some of the difficulties in their past (the "Bad Times" are mentioned often, and there was a plague on one of the ships that utterly decimated its population, making the Mirabile folk all the more ready to get vaccinated when a possible disease-vector appears), and the structure of their society. [I love the fact that their "guilds" generally refer to what might be online communities now, focused not on personal origin but on interests they have in common; there's a guild for various cultures, from "Australian" to "Texan" to "Sioux", and for other concepts - the chapter on the new cathedral's belfry introduced the "Cathedral" guild, which had a delightfully misplaced fondness for bats based entirely on a few bits about "bats in the belfry" from the ancient documents.]
The core of the stories is ecological balance - from inventive ways to utilize new species (for food - some of them are delicious! - for protection, as a unique trade item) to more dramatic steps that must be taken when a "frankenboar" develops and begins laying waste to the local trees by tunneling beneath them to devour the roots. There's a lot of care taken in managing potential threats, often finding that they aren't that threatening after all if handled properly, or that they can be relocated or otherwise dealt with. And the nature of the planet is such that there's value in saving nearly all genetic material, as they never know when certain traits might come in handy.
The other key element: family and community, which, here, is often the same thing. Human genetic diversity is as important as that of the ecosystem, so people are encouraged to mix and match so as to create a more diverse next generation. [They can marry (with their own rather entrancing formal-offers-of-courting-gifts rituals) - but that does not apparently have much to do with if, when, or with whom they opt to have children. The main character often mentions that one reason she's so fond of her beloved Leo is that whenever she meets one of his kids or grandchildren she finds them delightful, suggesting that the family genotype is a pretty darned good one.]
I'm rambling at this point - a common problem with books that I love this much; I want to quote *everything*, highlight every funny or scary or dramatic or heartwarming bit. OK, just one quote - from the author's note at the end:
"One of the joys of writing science fiction is that the writer can read anything that appeals to her and claim she's doing research." This is followed by a suggested reading list that might demonstrate just how many of the far-fetched (seeming) elements in the story are based on real-world evolution!
And I'll leave it at this: the book made me grin a lot, chuckle out loud, even get a bit teary in a good way. Recommended!
[There's a
TV Tropes page
on this short-story collection, with some interesting tidbits.]
---
Journal Entry
2
by
GoryDetails
at
Little Free Library, New Searles Rd [OBCZ] in Nashua, New Hampshire USA on Wednesday, August 31, 2022
Released 9 mos ago (8/31/2022 UTC) at Little Free Library, New Searles Rd [OBCZ] in Nashua, New Hampshire USA
WILD RELEASE NOTES:

I left this book in my Little Free Library; hope someone enjoys it!
[See other recent releases in NH
here
.]
*** Released for the
2022 One Word Title
challenge. ***
** Released for the
2022 Science Fiction
challenge. **
---
Journal Entry
3
by
GoryDetails
at
Nashua, New Hampshire USA on Saturday, November 12, 2022
I'm reclaiming this from my Little Free Library as it's gone unchosen for a while; will release it elsewhere soon.
---
Journal Entry
4
by
GoryDetails
at
Durham, New Hampshire USA on Tuesday, February 28, 2023
I'm planning to give this to BCer iddylu as a possible candidate for books-to-take-on-an-upcoming-trip - or to release locally, whatever appeals. Enjoy!
** Released for the
2023 Science Fiction
challenge. **
---
To take traveling with me on some upcoming trip or another (I have three planned for 2023)!
---
Journal Entry
6
by
Iddylu
at
Movenpick Hotel, Aswan in Aswan, Aswan Governorate Egypt on Friday, March 24, 2023
Released 2 mos ago (3/24/2023 UTC) at Movenpick Hotel, Aswan in Aswan, Aswan Governorate Egypt
WILD RELEASE NOTES:
I left this on a ledge near some golf carts!
---