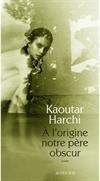 A l'origine notre père obscur
2 journalers for this copy...
Enfermée depuis son plus jeune âge dans la "maison des femmes", une bâtisse ceinte de hauts murs de pierre où maris, frères et pères mettent à l'isolement épouses, sœurs et filles coupables – ou soupçonnées – d'avoir failli à la loi patriarcale, prise en otage par les mystères qui entourent tant de douleur en un même lieu rassemblée, une enfant a grandi en témoin impuissant de l'inéluctable aliénation de sa mère qu'un infini désespoir n'a cessé d'éloigner d'elle.

Menacée de dévoration par une communauté de souffrance, meurtrie par l'insondable indifférence de sa génitrice, mais toujours aimante, l'abandonnée tente de rejoindre enfin ce "père obscur" dont elle a rêvé en secret sa vie durant. Mais dans la pénombre de la demeure du père, où sévit le clan, la guette un nouveau cauchemar où l'effrayant visage de l'oppression le dispute aux monstrueux délires de la névrose familiale dont il lui faudra s'émanciper pour découvrir le sentiment d'amour.

Entre cris et chuchotements, de portes closes en périlleux silences, Kaoutar Harchi écrit à l'encre de la tragédie et de la compassion la fable aussi cruelle qu'universelle de qui s'attache à conjurer les legs toxiques du passé pour s'inventer, loin des clôtures disciplinaires érigées par le groupe, un ailleurs de lumière, corps et âme habitable.
---
Livre jeté et désenregistré d'une bibliothèque suédoise.
---
Journal Entry
3
by
Nordpirat
at
Espresso house Drottninggatan 16 in Norrmalm, Stockholm Sweden on Tuesday, July 5, 2022
Released 1 mo ago (7/5/2022 UTC) at Espresso house Drottninggatan 16 in Norrmalm, Stockholm Sweden
WILD RELEASE NOTES:
Bienvenue dans le monde du BookCrossing !

Merci d'avoir emporté ce livre. Vous pouvez laisser un commentaire sur cette page pour indiquer qu'il a bien été trouvé.
Vous pouvez décider de rester anonyme ou nous rejoindre, c'est gratuit. Vous ne serez connu qu'au travers de votre pseudo, votre adresse mail ne sera jamais dévoilée. Ainsi, vous pourrez suivre le voyage du livre.
J'espère que vous l'apprécierez et vous souhaite une belle lecture.
---
Lors de mon passage touristique à Stockholm , Nordpirat m'a proposé ce livre pendant le meet up.
Je me réjouis de le lire et laisserai mes impressions plus tard.


During my stay in Stockholm , Nordpirat gave me this book during the meet up. I am looking forward to read it and will leave a comment afterwards.
---